Thanks for reading some of the latest features about area people and events.
To view every page and read every word of The Kenmare News each week,
subscribe to our ONLINE EDITION!
Kenmare Real Estate Market: Sales stall as demand for rentals remains high
Rental properties available in Kenmare remain hot, while sale properties are--not.
9/18/13 (Wed)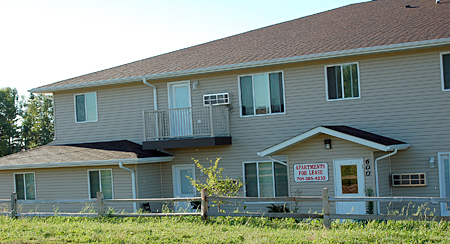 Apartments can't keep up . . . The demand for apartments
in Kenmare continues to outpace the supply.

By Caroline Downs
Rental properties available in Kenmare remain hot, while sale properties are--not.
That assessment reflects the trends in housing demands seen in mid-May, when The Kenmare News published a story about local housing availability.
At that time, no space was or would be available at the city's only RV park and campground. Steady calls came in for rental housing, but the new Honkerville 12-plex apartment buildings had five units to fill. Homes were getting listed for sale in anticipation of transition during the spring and summer, with 10 to 12 properties on the market that week.
Most apartments full,
with waiting lists
Last May, all 46 of the Kenmare Housing Corporation apartments were filled, while the three complexes managed by the city had five openings.
Those filled over the summer, too, according to Silvana Brewer, who serves as property manager for the city.
"I'm going to have some apartments available in a couple months because those tenants signed six-month leases," she said, "but I have a waiting list also and those units are spoken for already."
Brewer has been pleased with the smooth transition between renters. "Just last month, I had three apartments open up, but within two to three days, they were full again," she said.
The city's apartments have attracted a variety of renters, . . . Read EVERY WORD on EVERY PAGE of The Kenmare News by subscribing--online or in print!