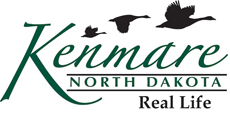 Real People. Real Jobs. Real Adventures.
Things to Do
Facilities
The Kenmare Country Club 9-Hole Golf Course & Clubhouse ( 13 other courses within a 60-mile radius)
The Wellness & Exercise Center offers the latest equipment to keep you and your family healthy year-round.
The newly renovated Kenmare Theatre, showing the best current-release movies
Heating swimming pool
Six churches
Kenmare Community Hospital & Clinic
Kenmare Dental Clinic
Memorial Grade School & Kenmare High School - Home of the "Honkers"
Kenmare Scenic Trail
1 Baseball Diamond & 2 Softball Field
Activities & Attractions
Goosefest! Eight days of unbeatable Canada goose, snow goose, and Greenhead duck hunting
Lake Darling, located just 34 miles east of Kenmare, offers great boating, fishing, and wildlife watching
Nelson's Perch Pond, located 4 miles southwest of Kenmare, offers quick pan-fishing outings
Mouse River Park as well as other parks in the Kenmare are offer campground and miles of hiking trails
The Taskers Coulee Picnic Area offers picnic areas, a covered shelter, a baseball diamond, and plenty of outdoor activities.