Thanks for reading some of the latest features about area people and events.
To view every page and read every word of The Kenmare News each week,
subscribe to our ONLINE EDITION!
Jennifer Nelson takes on role of community promoter
"I'll be the face of Kenmare," said Jennifer (Knutson) Nelson from the seat she has taken as the new executive director for the Kenmare Community Development Corporation (KCDC), "out there to promote the area."
3/20/13 (Wed)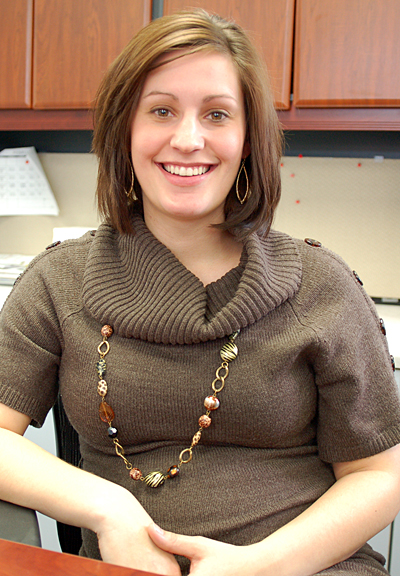 The new face of Kenmare . . . Jennifer (Knutson) Nelson
steps into the role of executive director for the Kenmare
Community Development Corporation. She will also serve
as an assistant to the City Auditor's office.
By Caroline Downs
"I'll be the face of Kenmare," said Jennifer (Knutson) Nelson from the seat she has taken as the new executive director for the Kenmare Community Development Corporation (KCDC), "out there to promote the area."
Nelson, originally from Bowbells, started working February 28th for the KCDC, after former executive director Barb Wiedmer submitted her resignation for the position, citing increased responsibilities in her role as city auditor.
Nelson's desk is located across from Wiedmer's in the city auditor's office and she will assist Wiedmer in several duties, but the majority of her time will be devoted to various opportunities for economic development in town. "I'll be out there promoting the city," she said, "and looking for ways to find funding to support new businesses that come to town."
Graphic design and
marketing background
Nelson believes her varied education and experience will be helpful in her position. She earned an associate's degree in graphic design from Bismarck State College and completed her studies at Minot State University in 2010 with bachelor's of science degrees in both marketing and international business.
She worked as a web designer for TAO Interactive in Bismarck while attending college, then served as art director for the KK Bold advertising agency at their Bismarck and Minot offices, employed for three years with the firm. She and her husband Cody, who works at the Robinson Lake Gas Plant for Whiting Oil & Gas, make their home in Kenmare and look forward to the birth of their first child in May.
Kenmare mayor Roger Ness approached Nelson about filling the KCDC executive director's position. "He asked if I would be interested in something like this," Nelson said, "and I thought it was a great opportunity for me to be more involved in the community of Kenmare."
She laughed, "Now that we live here and are going to have a family here, I'll know more about what's going on in town!"
Much of Nelson's time away from work has been spent commuting back and forth to her former office in Minot, but she managed to participate in Kenmare's co-ed volleyball league and she joined the Town & Country softball team that played in a Minot league last summer.
Now, her days will be spent in Kenmare rather than commuting, and her role as KCDC executive director places her among the community's leaders. "I have a list of meetings to go to," she said, naming the city council, school board, Fund-ITT, Association of Commerce, Safe Communities, and Souris Basin Planning Council sessions as some of the commitments highlighted on her schedule, along with the regular KCDC meetings.
Goals include
better communication,
new retail operations
Nelson acknowledged the change from graphic design and advertising to economic development came with a bit of a learning curve. "I'm willing to learn and I'm willing to take on new things," she said about the transition. "I'm very open to hearing new ideas from people."
She already has some goals in mind for her new position, including improving communication between the KCDC and Kenmare citizens. "I want to provide more information to residents," she said as she described creating a Facebook page specifically for the KCDC.
She has been posting announcements about events, new business updates, open houses and other economic and community activities on the page. "Everyone's on Facebook," she said, "so now you can get that quick little update."
Facebook users can search for "Kenmare Community Development Corporation" and like that page to receive Nelson's postings.
She plans to network with leaders in other North Dakota communities facing some of the same challenges and issues seen in Kenmare right now. "I want to see how they're handling the growth and business opportunities," she said.
She is seeking businesses to fill the remaining store space that will become available when Phase II of the West Side Square construction project is completed later this year. "We're looking for some sort of retail operation," she said.
Nelson would also like to see another dining option open for Kenmare area residents. "I think the city could benefit from some type of family-style supper club," she said, "in addition to the restaurants we have now."
She wants potential business owners to be aware of Kenmare's strong points. "The city has a lot to offer, with all the necessities you need for a small town," she said. "There are a lot of groups to be involved in here, and there are several opportunities for volunteering."
She paused and smiled before continuing, "And so far, the people have been great!"
As executive director for the Kenmare Community Development Corporation, Nelson can access a variety of resources to assist business owners or entrepreneurs with business plans, funding and financing options.
She can be contacted at the Kenmare City Auditor's office in the Memorial Hall Monday through Friday, 9 am to 4 pm, by stopping in or calling 701-385-4232. She can also be reached by phone at 701-339-9995 or by email at jen.nelsn@gmail.com.
"I would like to be an asset to the community," she said, "helping new and existing businesses."