Thanks for reading some of the latest features about area people and events.
To view every page and read every word of The Kenmare News each week,
subscribe to our ONLINE EDITION!
Firemen learn limitations and hazards of tank blazes
A tank fire set deliberately for training gave area firefighters the opportunity to learn how to deal with one type of fire they never want to see.
3/20/13 (Wed)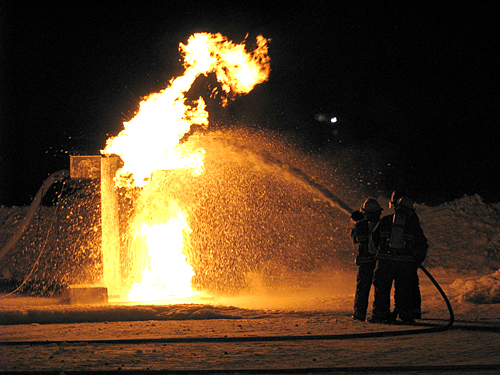 Foam smothers oil . . . Kenmare firefighters douse a simulated oil
fire with foam during a training session offered in Kenmare the evening
of March 7th by members of the Minot Rural Fire Department.
Twenty-three firefighters from the Kenmare and Bowbells departments
took part in the four-hour session, using a boil-over simulator provided
by the Minot Rural department.
By Caroline Downs
A tank fire set deliberately for training gave area firefighters the opportunity to learn how to deal with one type of fire they never want to see.
Eighteen members of the Kenmare Fire Department and five volunteers with the Bowbells Fire Department participated in a Flammable Liquid Storage Fire Boil-Over Class on March 7th.
The session was conducted by Mike Hyndman, senior firefighter with the Minot Rural Fire Department, and other volunteers using a boil-over simulator recently obtained by that department for the purpose of offering this training.
"This simulates a boil-over on a tank battery out in the oilfield," said Hyndman, who is a KHS graduate. "Steam at the bottom of the tank gets to a certain temperature and pushes the liquids out."
"This is something the department is going to run into," said Kenmare firefighter Ron Jensen, "and we'll use the same strategies we learned for situations with propane tanks or storage tanks that people have."
According to Kenmare firefighter Chuck Leet, one of the most important aspects of the training was to recognize the limitations of fighting such a fire. "We learned how to approach an oil fire and what goes on when there's a tank on fire," he said.
"We only approach these if there is a human life involved or if one of the employees is in trouble out there."
"Basically, we don't touch anything," added Trevor Melin, junior truck captain for the Kenmare Fire Department.
Jensen explained the local department's role during an oilfield tank fire would be to call the appropriate response personnel, as posted at the well site. "What happens on the scene is up to the lease operator," he said. "Until then, we protect other structures and property."
Hyndman and other Minot Rural firefighters held the same session for fire crews in Tolley, Sherwood and Velva before coming to Kenmare.
"We also did the class at the State Fire School, where we had about 70 people take it," Hyndman said.
The training mimics the type of flammable liquids fire that departments may encounter with the expansion in the oil and gas industry across western North Dakota. Hyndman noted the class also prepares firefighters to deal with problems from crown tanks that store flammable liquids at gas stations or other businesses and on farms.
"We're trying to cover all the bases," he said.
The training session allowed local firefighters to learn to use the department's new foam trailer purchased with funds donated by Farmers Union Oil Co. The trailer includes a 250-gallon tank to hold a soap-like solution, along with hoses and a compartment for additional tools.
"When you have something like fuel oil fires, gas fires or electrical fires, you don't want to spray water on them," Leet said. "We can smother flames with this foam."
"We'll also use it on structure fires and car fires," Melin said. "You use less water when you use foam."
Leet described how the foam can be mixed with water in a solution ranging from one to six percent. "We can actually build a dike with this foam, at the six percent level, to contain a spill of some sort of fuel or chemical," he said, "until we get the proper equipment there to hold the spill in place."
He noted that Farmers Union Oil Co. wanted the Kenmare department to have the proper equipment in case an emergency occurred at their operation. "This is something that would help them, as well as the city and the rural district," he said.
"And it helps Kenmare with its insurance rating," added Jensen.
The department received 11 55-gallon barrels of foam solution free of charge from Minot Air Force Base to use with the trailer. "We have smaller foam units on the trucks, too," said firefighter Eric Seykora.
Firefighters also learned to use two types of gas monitors as a safety measure during oilfield and other flammable liquid fires. "We found out we should have a 4-gas meter and an H2S monitor," said Scot Ness.
"There are common gases we're going to come into contact with on a well site," Jensen said. "The equipment is expensive, so the department wants to look into ways to obtain these."
Seykora, Melin, Ness, Nate Condit and Adam Schumacher organized the training session for the two departments. The evening included one hour of classroom instruction and three hours of practical application on a lot belonging to Andy Mau at the east edge of Kenmare. Mau supported the firefighters' request to hold the training on his property.
Jensen was pleased to have the session offered in Kenmare by the Minot Rural department. "With the volume of runs they have, they know what they're doing," he said. "They're always offering training for us."
He continued, "A good percentage of the participants were our new firemen. In fact, some of our newest members have taken on a lot of training in the past month between this session and State Fire School. Now, we're all on the same page with this equipment."
The boil-over simulation sessions are provided to departments free of charge through a grant offered by the North Dakota Firefighters Association, according to Hyndman. He was happy to see his friends with the Kenmare department take advantage of the opportunity. "I say your town is only as strong as your fire department," he said. "That's my theory."
The Kenmare Fire Department belongs to the Mouse River Firefighters Association, which coordinates emergency response plans and training among several departments across Ward County.
Kenmare Fire Department
now prefers 911 calls
Volunteers with the Kenmare Fire Department also participated in training with Minot Central Dispatch last week. "We're switching from the state radio channel to the Ward County radio channel," Jensen said.
According to Leet, the Ward County Emergency Management office wrote a grant to purchase equipment that allows Minot Central Dispatch to directly page local departments after receiving a report through a 911 call. Previously, a 911 call to Minot Dispatch generated a chain of more phone calls to reach the appropriate fire department.
"Now, the Kenmare Fire Department has 911 capabilities," Leet said.
"This has been a five-year project," Jensen said, adding that if a Kenmare area resident reports a fire or other incident by calling 911, the system provides firefighters with a Google Earth map showing driving directions to the location from the Kenmare Fire Hall.
Citizens can still call 385-4444 to report a fire in Kenmare and the surrounding vicinity, but calling 911 is now just as efficient for the department.
"If people call 911, Minot Dispatch can page us directly," Jensen said. "911 is the way we prefer to notified."