Thanks for reading some of the latest features about area people and events.
To view every page and read every word of The Kenmare News each week,
subscribe to our ONLINE EDITION!
Gerald Lawson was shot and wounded on the battlefield in Korea
"I was there at the end," Gerald Lawson said about his service in Korea, which resulted in a Purple Heart. "I was wounded late the night of 7th of July or early on the morning of the 8th, and the war ended on the 27th."
11/06/13 (Wed)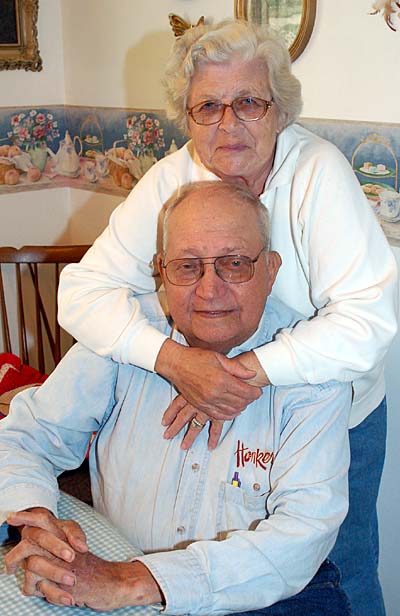 A corporal with a Purple Heart . . . Gerald Lawson of Donnybrook spent
the 60 years after the Korean War living with 43 pieces of shrapnel still
in his body and with his beloved wife Ethel, who endured agonizing weeks trying
to learn about her husband's status after he was wounded in early July 1953.

By Caroline Downs
Editor's note: Gerald Lawson passed away November 1, 2013, before he could see this story in print. His funeral will take place Thursday, November 7, 2013, at Vincent United Methodist Church in Minot, nearly 60 years after his honorable discharge from the U.S. Army.
"I was there at the end," Gerald Lawson said about his service in Korea, which resulted in a Purple Heart. "I was wounded late the night of 7th of July or early on the morning of the 8th, and the war ended on the 27th."
The 1948 graduate of Donnybrook High School joked as he described receiving his draft notice for the war at the age of 21. "I was selected by my friends and neighbors," he said. "I got to see 17 states and three countries while I was in the Army."
Lawson started his military service January 17, 1952, at Fort Knox, Kentucky, where he spent 11 weeks training in tank gunnery and 5 weeks in tank gunnery.
During a leave granted in early June, he married Ethel Helmers in Tolley, then returned to the service. After short stints at Fort Hood, Texas, and Fort Lewis, Washington, Lawson shipped out on a merchant marine ship to Camp Drake in Japan.
"While we were going overseas, I changed from a tank driver to the infantry," he said. "You see, it was all hills in Korea. The tanks were not usable."
By the time Lawson set foot in Korea in April 1953, he had been assigned to the Fox Company in the 17th Regiment of the Army's 7th Division. "We took a train up to the biggest camp I ever saw in my life," he said about his new, temporary home.
He eventually became squad leader for Fox Company's 3rd Platoon and achieved the rank of corporal. "I was in consideration for sergeant," he said. "I was doing a sergeant's job."
Lawson's company saw volatile action in some of the most notorious locations, including Pork Chop, Baldy, Old Baldy and Hill 200. "We were a little north of the 38th Parallel," he said, describing the 1945 boundary established between North Korea and South Korea. "The line really wasn't that straight."
His final day and night on the field occurred in early July, when his company and two others were assigned to take Hill 347. "We captured the hill," he said. "They had used my bunker for a first aid station there."
That evening, the soldiers were sent out to fight and during the chaos on the battlefield Lawson was shot in the back. "It could have been friendly fire," he conceded.
Injured, Lawson was rolling down the hill in pain when a mortar round hit and exploded behind him. "I was laying there, just remembering the good stuff," he said.
He was actually tangled in some wire after he was hit, but he extracted himself and slid the rest of the way down the slope. "I never lost consciousness," he said. "When I got to the bottom, I didn't have anything left to get up, so I called for help."
Lawson lay on the field, aware, exposed and bleeding. Finally, a medic in the company came to his aid, but Lawson never really had the opportunity to thank him.
"He dragged me in and got me patched up," said Lawson, "and after he did all this, he got killed there."
Lawson was evacuated by Jeep, with other medics working on him constantly. "I had three transfusions on the way to the hospital," he said.
He spent 10 days in the 43rd MASH, then two days at the hospital in Seoul, Korea. At the war's end, he was flown to the Army hospital in Tokyo, Japan, where 16 days passed before his wounds were even stitched closed. "They were in so deep," he said.
He didn't know it on the field, but his injuries included two broken ribs and a punctured lung from the bullet, with shrapnel fragments embedded in his body from his left foot to his right shoulder. "I've still got 43 pieces in me," he said. "I have to tell [the doctors] when they x-ray me, and I get stopped for metal when I go through airports and even at the courthouse in Minot."
Lawson stayed in the Tokyo hospital for two months before his transfer to a rehabilitation hospital in Omiya, Japan, where he lived for another two months, exercising his right arm three times daily. "I got back 85 to 87 percent motion," he said. "I had awful good Army doctors."
He also feasted on the steak and fresh milk patients received at that facility. The fighting and wounds had taken their toll on Lawson's body. "When I went into the service, I weighed 164 pounds," he said. "I weighed 102 pounds in the hospital and 112 pounds when I was sent home."
When Lawson was injured and first getting treatment, Ethel received conflicting reports from the Army about his status. "They told me he was MIA," she said. "It was awful. I didn't know for a long time, but [Lawson's] grandpa and I went to the Red Cross and they got on it."
Eventually, Ethel discovered the truth about her husband's condition and location. Then, she settled in to wait for his return.
Some soldiers left Korea soon after the armistice was signed, but Lawson had to wait until he was well enough to travel. "Then I was discharged from the Army when I got out of the hospital," he said.
He traveled back to the United States on a ship carrying 700 Japanese and Korean wives of American servicemen. "I came home with the war brides," he said. "They were on the top deck."
The ship landed in Seattle, and Lawson was sent to Fort Carson, Colorado. While there, he ran across Ron Pumarlo from Kenmare, who was purchasing a new car to drive home from the camp. "Six of us hired him to take us home, one from South Dakota and five from North Dakota," Lawson said. "It cost us $20. I was the last one to get off."
His wife picked him up in front of the Irvin Hotel and the two lived in the Grano schoolhouse, where she was teaching, for the winter. By May 1954, Lawson began his tenure as manager of the elevator at Coulee. Later, he worked 23 years as the rural mail carrier for Route 2 in Donnybrook.
He received the Purple Heart and Combat Infantryman's Badge for his service, and spent 61 years as a member of the American Legion Clarence McCormack Post #195 at Donnybrook.
"I feel really lucky to be here," he said, then nodded. "But I'd do it again."
*Read about Lloyd Holter's and Jerry Rasmusson's Korean War experiences, too.