Thanks for reading some of the latest features about area people and events.
To view every page and read every word of The Kenmare News each week,
subscribe to our ONLINE EDITION!
Ward County wants Kenmare input before rebuilding 6th Street
Take a drive or a walk along the approximately 0.9 miles of Ward County Road 2 through Kenmare, also known as 6th Street.
9/04/13 (Wed)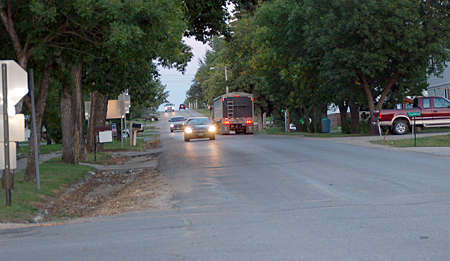 Busy road . . . Ward County Road 2, also known as 6th Street, is one
of Kenmare's busiest streets with vehicle traffic, and frequent pedestrian,
traffic throughout the day. Ward County officials plan to host a public meeting
on Sept. 11 in Kenmare to hear input for a potential project to rebuild the road.
By Caroline Downs
Take a drive or a walk along the approximately 0.9 miles of Ward County Road 2 through Kenmare, also known as 6th Street.
Consider the ruts, potholes, patching, lack of sidewalks, lack of streetlights, increase in truck traffic, water gushing along the roadway after a rainstorm, frequent use by farm implements, and railroad crossings on the west side of town.
What would you do to fix any of it?
Even more important, what would you like to see 6th Street become in Kenmare?
Ward County Commissioner John Fjeldahl and County Engineer Dana Larsen really want to know. So do Kenmare Mayor Roger Ness and Moore Engineering representatives Brock Storrusten, David Roedel and Byron Glenn.
They're ready to hear from you during a public meeting about a potential project scheduled for Wednesday, September 11th, at the Kenmare Fire Hall, beginning at 7 pm.
Larsen acknowledged the road has been a source of frustration. "We resurfaced that entire roadway less than ten years ago and it should have lasted 20 years," he said. "Last year alone, we spent $100,000 just in patching. There's been so much damage to the roadway, but look at the amount of car traffic and truck traffic on the road."
He recalled meeting with city officials at least twice during the past few years to address the pavement condition and drainage issues associated with the road, but attempts to secure funding for a project have not been successful because no specific project has been designed.
That is going to change within the next few months, starting with the first public meeting next week. "We've decided to make the commitment now to get it designed," Larsen said. "Everybody talks about 'shovel-ready' projects when it comes to funding, so let's start this and have it ready."
The project design is a clean slate at this point. "We want to get the whole community involved, to see what they want this street to be," said Storrusten, "and create a corridor that's going to be in this city forever, used by everybody."
"Are we looking at lights? Sidewalks? Curb and gutter?" Ness added. "Those would be the city's responsibility, so we need input. The Ward County Water Resource Board will be involved in this, too, so we can look at solving the drainage problems."
Larsen said most county road projects involve only the roadway and associated ditches, but this project offers the potential for more.
"There may be some things we never thought of," he said. "We want to know what the people of Kenmare think is important. There is no set plan right now."
He continued, "We have to look at some type of rural storm sewers but the next question is, what do the residents want to see?"
Storrusten encouraged Kenmare residents to consider their vision for one of the busiest streets in town. "This is going to be a statement for Kenmare," he said. "No one's mind is made up about this yet. We want to hear the concerns and the ideas."
Surveying road
started in August
The stretch of road to be addressed at the meeting begins on the east side of Kenmare at the junction of Ward Co. 2 with U.S. Highway 52 and runs west through the city to the railroad crossing. Storrusten noted local residents may have observed surveyors working along the street last month.
"They were doing a topographic survey," he said, "tying in all the elevations and locations of things like the streets, trees and utilities that will be impacted by the project."
"Public input is the next step," Larsen said.
That public input will be gathered during next week's meeting. Storrusten and Larsen have already suggested a second session may be useful within a few weeks to revisit the information collected, depending on ideas received from local residents.
"We'll compile the information we get on September 11th, then we can start presenting some ideas at another meeting and get more input," said Storrusten.
"If we get enough information next week, we'd like to come back with a couple of different scenarios for more input," Larsen added. "We may not be able to grant every wish that's brought up, but hopefully there will be enough input on the ideas to establish a consensus for the project."
He and Storrusten would like to see the Ward County 2 project designed for Kenmare by February 2014. "It may have to go another year, or maybe we can do it right away," said Larsen. "This is an aggressive schedule but we want to make sure we have all the options on the table in the spring and make sure we do it right so we can move forward when funding becomes available."
He continued, "When we have the plan, we'll know what it's going to cost."
Project has become
a priority for Ward County
Larsen and Fjeldahl agreed the Ward County 2 project in Kenmare isn't one of the county's 32 emergency repair projects, which have absorbed $20 million so far in 2013. "We're still in disaster recovery from [the Mouse River flood of] 2011," said Larsen.
However, the county road through Kenmare is viewed as a significant corridor connecting rural areas in counties west of Kenmare to U.S. 52.
"When you look at what's happening economically in this area, in my opinion, this project is fairly high on our list," Fjeldahl said. "We know this road through Kenmare has been a problem. I'd like to see it done within the next one to two years."
Storrusten anticipates a thorough discussion about the road on September 11th, with all interested residents and stakeholders at the meeting. "We really hope to see people from those neighborhoods along the road involved, too," he said.
He and Roedel said they could also visit with residents individually at the meeting and provide ways to comment by phone or email if necessary.
"The next steps will be determined by the group that night," said Storrusten. "We want to keep the meeting as a visioning, broad scoping meeting. We want what's right for Kenmare."
Ness described the road as the main thoroughfare through town. "We need to have a concept, something to move forward with," he said. "We want this to be accessible and usable by everyone, something people will appreciate."
The first public input meeting for the Ward County Road 2 project in Kenmare will be held at the Kenmare Fire Hall at 7 pm on Wednesday, September 11th. Persons of all ages from the area with an interest in the road are invited to attend this session. For more information, contact the Kenmare city auditor at 701-385-4232.