Thanks for reading some of the latest features about area people and events.
To view every page and read every word of The Kenmare News each week,
subscribe to our ONLINE EDITION!
There is much that is "new" at Kenmare Pioneer Village
Kenmare's Pioneer Village is humming with activity this week as staff and volunteers prepare for the annual Pioneer Day event, scheduled for Sunday, July 14th.
7/10/13 (Wed)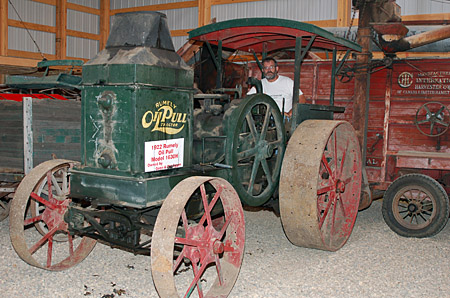 Pioneer Day attraction . . . Bryan Quigley, Lake County Historical Society
president, invites the public to look over this 1922 Rumely Oil Pull tractor
on loan especially for Kenmare's annual Pioneer Day event planned for
July 14th. The tractor is owned by Gene and Pat Eggen of MInot, and is one
of many new displays available at Pioneer Village this weekend.
Pioneer Day is Sunday
By Caroline Downs
Kenmare's Pioneer Village is humming with activity this week as staff and volunteers prepare for the annual Pioneer Day event, scheduled for Sunday, July 14th.
Bryan Quigley, Lake County Historical Society president, points to progress even as he steps around display cases and boxes of items. "We'll have this ramp done by Sunday," he said about the new wooden walkway that will provide handicapped access to the Duffy's Diner building, thanks to a grant from the St. Joseph's Community Health Foundation in Minot.
Inside Duffy's, the familiar salon, barber shop and bowling alley exhibits have been stacked at the east end of the large room, while a new floor is getting finished on the west half of the building.
"We removed the carpet from in here and got the floor repaired," Quigley said about work that has taken place since the building was set onto a new foundation last year.
He gestured toward the gleaming wooden floor, painted to imitate black and white tiles, trimmed in red. "Jessica Shelton of Fat Boys Construction painted the floor and counter for the barbershop in here," he said. "Now, we will be able to display items so people can actually look at them in here, and not worry about a heaving floor."
Many of the buildings at Pioneer Village have something new to offer visitors this summer, whether it's the collection of women's 1920s vintage bathing suits that can be seen in the Dress Shop or the stained glass windows from the former Hope Lutheran Church at Coulee repaired and hanging in the Niobe Hall.
New donated items,
new items on loan
One significant project-in-progress at Pioneer Village is the display of military gear. A new case holds the World War I uniform worn by Iner Nore of Kenmare, father of the late Marge Helmers. "Lyle Helmers donated this all to Pioneer Village, and the funds to have the display case built," said Quigley.
A second display case stands nearby, waiting to be completed. The Village is storing other military uniforms and items given by area families, and board members want to expand the military exhibit, with help from a volunteer or two with some knowledge about the uniforms and gear.
"We're looking for someone with military expertise to help us make sure we have everything displayed corrected and labeled correctly," Quigley said.
Other new items on loan for Pioneer Day include a bearskin coat worn by John P. Christiansen of Denmark Township in the early 1900s, a vintage velvet "fainting couch" owned by the Wallstrum family, and stationary engines from the collections of Lawrence Ankenbauer and Al Kohler.
The Blacksmith Shop, which also received a new foundation last year, will be the only building closed to the public on Pioneer Day because of ongoing work. However, according to Quigley, the Rytter Implement Building will hold some added attractions for the day.
The centerpiece is a 1922 Rumely Oil Pull Model 1630H tractor, on loan from Gene and Pat Eggen of Minot. "They come to Pioneer Day every year," said Quigley, "and now we have this Rumely on display."
Antique tractors and other equipment loaned by Ival Mogren, Herman Landers, Ron Boughton, Bryce Boughton and Jacob Swanson can be viewed.
Larry Crowder of Bowdon has provided a 1928 McCormick Deering tractor, originally owned by Hjelmer and Marion Nelson at Lostwood, and a 1940 John Deere H, first owned and operated by Sam Norgard of Carpio.
Another piece of Kenmare history is displayed in the implement building, with two metal chariots formerly used during local horse races held on a track north of town and donated by the Gravesen family.
1946 Ford Coupe will
shuttle visitors to village
The 1946 Ford coupe normally parked in the implement building will be on the road during Pioneer Day, driving visitors to and from Pioneer Village.
The shuttle service is a new feature this year, given the limited parking available at the Village itself.
"We hope to be providing shuttle service with the Ford and golf carts," Quigley said. "People can park their cars wherever and just start walking toward the village, then wave down a golf cart when they see one. We'll have them going all over town."
Pioneer Day offers a variety of ways for persons of all ages to bridge the past and present in Kenmare.
The schedule begins at 9:30 am with a worship service held by the congregations of the Trinity, Elmdale and Bethlehem Lutheran churches, with everyone invited to attend.
A pancake breakfast will follow, serving under the tent from 10 am until 12:30 pm, with proceeds from the freewill offering going to benefit the Trinity Lutheran Church mission trip to Nigeria planned later this year.
The official Pioneer Day scavenger hunt begins at 1 pm, with the doors opened to the exhibits. Children should report to the White Schoolhouse at 2 pm to play games led by the Kenmare FFA.
At 3 pm, the hymn sing will begin in the Hartland Church, followed by the popular log-cutting contest at 4:30 pm. Vendors and "old time" musicians will be sharing their wares and talents throughout the afternoon, and several members of the Lakeview Art Club will have paintings on display.
Dinner, featuring fresh roast pork and all the trimmings, will be served under the tent at 6 pm for the price of a free will offering. The Dakota Prairie Creative Society will sell desserts to benefit student scholarships to the International Music Camp.
The remaining tickets will be sold for the Lake County Historical Society raffle, as the drawing will be held at 7:30 pm. A set of state quarters donated by BNC National Bank and an original painting by Kenmare artist Jane Kalmbach will also be auctioned at this time.
The evening concludes with a production of "The Watchmaker's Daughter, or, The Villain Ticked Her Off," produced by special arrangement with Brooklyn Publishers, LLC. Cast members Meghan Essler, Grey Wallstrum, Charles Steinberger, Donna Griesbach, Brittany Harris, Jordan Balvitsch, Beca Wallstrum and Caroline Downs will offer one live performance of this historical melodrama involving true love, questionable intentions, human smuggling, a large grandfather clock and several bad puns, all under the direction of DeVonne Hanson.
Whether you come for a particular activity or to spend the entire day, Sunday's Pioneer Day allows you to experience the best of the past and present in Kenmare.