Thanks for reading some of the latest features about area people and events.
To view every page and read every word of The Kenmare News each week,
subscribe to our ONLINE EDITION!
New store opens with vastly expanded space
"Once we get everything all settled in, it'll be good," Pete Thorp, longtime Gooseneck Implement parts man, said last week.
1/30/13 (Wed)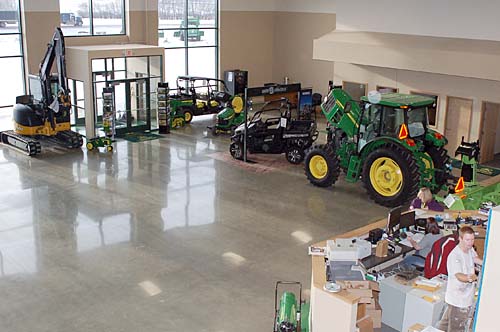 Showroom style . . . The showroom at the new Gooseneck Implement
has plenty of space to display equipment. More merchandise is expected
to arrive this week, with some of the open floor space shown here soon
to be filled with an expanded line of John Deere clothing, gear and toys.
The receptionist's desk can be seen at lower right, and customers
can enjoy their coffee as usual in the lounge area, upper center.
By Caroline Downs
"Once we get everything all settled in, it'll be good," Pete Thorp, longtime Gooseneck Implement parts man, said last week.
He glanced around at empty shelves now assembled in the parts room at the new Gooseneck Implement facility along U.S. Highway 52 on the south side of Kenmare. Although many shelves appeared organized, stacks of boxes, with bar code labels to match labels already attached to the shelves, filled the aisles.
"We're done moving inventory over from the old location," he said. "It's a matter of finding a home for it here."
Thorp smiled as he spoke, however, obviously pleased with his new workspace. The parts counter can accommodate several customers at one time, with phones and computer monitors easily accessible for staff. Behind the counter, the inventory is arranged in its own spacious section, with a separate staircase leading to additional storage on the second floor.
Having so much space available for all aspects of the operation was a priority for the new John Deere facility in Kenmare, and general manager Kevin Borud is happy with the result. "We're really excited about this," he said. "Hopefully, this new building will allow us to acquire more staff and retain our good people."
Open House for
everyone this Friday
To celebrate the completion of the building project and the business expansion, Gooseneck Implement has invited the public to an open house on Friday, February 1st, beginning at 4 pm.
Store manager Matt Borud wants the whole town to stop out for the event. "This is for everyone," he said. "We would like anyone in town and from around the area to come up and see what we do and check out the new facility, just to see what's new in Kenmare!"
Plans for the open house are informal, with refreshments and socializing beginning at 4 pm and a meal served beginning at 5 pm. "You can walk around and see the facility," said Borud. "All the staff will be here."
He explained the evening is also intended to be a customer appreciation event. "We were holding off on that until we were in the new building because we just didn't have the room or parking," he said. "Now we can have a combination open house and customer appreciation."
State-of-the-art dealership
Visitors to Gooseneck Implement on Friday will see a state-of-the-art facility under one roof. "Everybody has their own office," Borud said. "We have all of the parts in one building, and the technicians are in one building with a lot more space. The biggest change is all of the extra room we have gained."
He laughed and shook his head as he talked about outgrowing the other location. "It was so crammed in there we could hardly walk," he said. "The technicians worked shoulder to shoulder and all the equipment inside was so congested."
He said the owners first discussed building a new shop in the old location. "But we really didn't have the space on the lot there," he said. "We've got the room here where we can expand in the future if we need to."
For the first time in the Kenmare dealership, the 100' x 200' shop area has cranes installed for the technicians. In fact, the building was designed with 30-foot sidewalls specifically to accommodate the cranes.
"We've had cranes on the service trucks," Borud explained, "but this makes it so much easier for them to do things like change tires, pull an engine out of a tractor or set up air drills. It's safer, too. Now they can do these types of things with the cranes instead of trying to manhandle everything."
The shop also features floor heat, quality lighting, an exhaust system to use when running tractor or combine motors, and a connected wash bay. "We can wash equipment in there year-round," said Borud. "That's going to be so nice. We've even hired someone and that's going to be his full-time job."
Customers may be attending clinics or other sessions in the new conference room, which is set up with several computer workstations. "We can have our meetings and our trainings here," Borud said.
The coffee pot is always on, and customers can help themselves in the lounge area immediately north of the front entrance. Cushioned black leather chairs and copies of local newspapers make it easy for visitors to relax there.
"We really enjoy the customers coming for coffee," said Borud, adding that the tradition started when Gooseneck Implement first opened.
The main floor will serve as the showcase for various types of smaller John Deere equipment, along with assorted merchandise, including clothing and toys.
The gumball machine will be the first place some customers spend their money. Filled with green and gold bubblegum, the machine is perched on top of a JD720 pedal tractor parked immediately inside the front door. It's sure to be a hit with young customers who have an extra quarter in their pockets.
"The builder made that for us," Borud said, then smiled. "We'll keep that filled."
Move to new
facility complete
The contractor, Kiehm Construction Inc. of Lakeville, MN, finished the main building before Christmas. The cold storage building was actually completed by October and a temporary shop was set up in there, but the technicians and some of the office staff transitioned to the new facility in December.
All 35 of the Gooseneck employees relocated by January 16th. "Pete [Thorp] and I were the last ones to move over," said receptionist Jessica Grindeland. "Our phone was still ringing [at the former location], and our computers and Internet were hooked up over there until then. Customers started trickling in here, though, after Christmas."
Kenmare has had a John Deere dealership since the 1930s, but Gooseneck Implement started operation in 1974 when Darrell Borud and Tom Burkett purchased the former Rasper Implement business and renamed it. The dealership was located on the north end of Kenmare from 1994 until the final boxes were moved last week.
Since Kevin Borud started managing the business in 1989, Gooseneck Implement has grown to include dealerships in Minot, Williston, Harvey, Rugby, Velva, Mohall and Stanley. Borud believes the new site south of Kenmare will provide sales and service for years to come, beginning with Friday's open house.
"We want to thank all of our customers and employees over the years, for sticking with us," Matt Borud said. "It's been almost 40 years that Gooseneck has been in Kenmare, and we're hoping this open house will bring people out to the new location."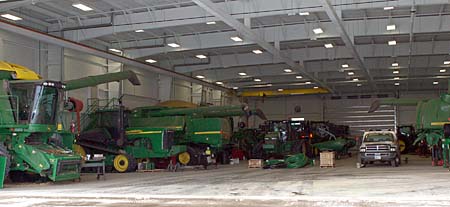 Room to work . . . The back shop area is 100' x 200' with
30-foot sidewalls and cranes installed to assist the technicians.