Thanks for reading some of the latest features about area people and events.
To view every page and read every word of The Kenmare News each week,
subscribe to our ONLINE EDITION!
Kenmare wins 8th consecutive District volleyball championship
"At the beginning of this year, we were ranked sixth [in the district]," KHS head coach Tim Wallstrum said. "We're just so small. But to be able to come out and win the district championship is a lot of fun!"
11/07/12 (Wed)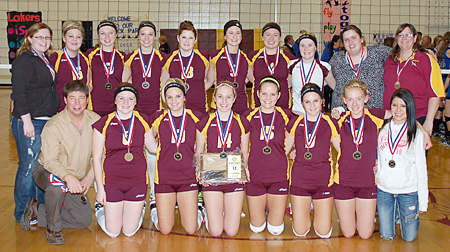 2012 District 12 champion Kenmare Honkers

By Caroline Downs
"At the beginning of this year, we were ranked sixth [in the district]," KHS head coach Tim Wallstrum said. "We're just so small. But to be able to come out and win the district championship is a lot of fun!"
The fun came October 30th in the District 12 championship match played at KHS when the No. 2-seeded Honkers defended their home court to upset No. 1-seeded Our Redeemer's Christian School and earn an eighth consecutive District 12 title before a roaring hometown crowd.
"We felt like [the tournament win] was our job," said KHS senior libero Morgan Goettle.
"We didn't want them to beat us," added senior setter Lexie Munson. "We've been the district champs for seven years, and we didn't want to be the team that let that down."
The Honkers defeated the Knights early in the season, but lost twice to the squad since then, including the regular season match that gave ORCS the top seed in the District 12 tournament.
In the tournament title match, however, everything came together for Kenmare. "We were connecting," Goettle explained.
"And we didn't make errors," Munson said.
In fact, the first game started with both teams rolling through their offensive plays and the crowd cheering enthusiastically from every corner of the gym. The two sides traded points, with the Knights' power hitters Ashley Koppinger and Emily VanLith finding their mark. However, the Honkers' block stopped enough of those kills to give Kenmare a 13-10 lead that built to a 19-10 margin on points including a Chelsea Nelson ace, a Beca Wallstrum block and a Shelby Hass hit.
The Knights were taken out of their game and made uncharacteristic mistakes, which only returned the serve to Kenmare for another point by Hass. The Lions scored twice more, but Kenmare's advantage and motivation were too strong. Wallstrum blocked a Billie Bangen kill attempt, followed a Katie Nelson hit for game point and another Wallstrum kill for the 25-12 win.
ORCS took the court with a different attitude in the second game, but the Honkers refused to give any ground. The Knights earned the first point, only to watch Kenmare score four points on a Hass kill, a Katie Nelson ace and two ORCS errors. Then the Knights made a run with four points to take a 6-5 lead, including a Koppinger kill and a series of missed passes by the Kenmare squad.
The two sides added to their totals point by point, tying the score five times until Kenmare pushed ahead 17-15 on another Katie Nelson ace and Hass hit. The Knights answered with two hits by Koppinger, a Morgan Olson kill and a Koppinger block. Hass interrupted that string with a kill, but Koppinger matched her on the next play, then VanLith blocked a Hass hit, only to watch Hass power down her next attempt.
Kenmare edged ahead 22-21 on two Wallstrum blocks to a wildly cheering crowd, but Makayla Gartner tied the score again on a hit off Hass. The Knights moved ahead 23-22 as the Honkers missed a setting attempt, but Hass came through on the next play with a kill, followed by an ace as she rotated to the serving line.
The Honkers' only missed serve of the night came as Hass sent her second serve out of bounds. The Knights took the ball at the crucial 24-24 point, but the Honkers stayed calm and set up their offense with Katie Nelson ready to score twice from the outside for the 26-24 win.
The Honkers' level of play was energized by the pair of wins as they started the third game and took a 7-2 lead on a McKinzie Jensen block and kill followed by back-to-back points from Hass. The teams continued their battle with long volleys, with the Honkers digging up Koppinger's and VanLith's hits as Kenmare maintained a slight margin through the entire set.
Points came from all corners of the Honkers' court, including a block and kill from Wallstrum and ace from Justice Brown. ORCS pulled within three points at 20-17 on back-to-back points from Koppinger, and then tied the score at 22 as Wallstrum missed a hit and Hass was blocked, but Kenmare stayed focused and reclaimed the serve when Olson's attempt fell short.
With the district title on the line and Hass firing from the left side of the court, the Knights' attack faltered as Koppinger sent her hit out-of-bounds. Kenmare's momentum for game point shifted into overdrive as the Honkers' crowd rose to their feet, and Munson saw the opportunity to tip the ball into a hole on the ORCS court for the 25-22 victory.
Honkers don't
want to be done
"They were fired up," KHS head coach Tim Wallstrum said about the Honkers. "Every one of my girls played so hard tonight, and they didn't back down."
The Honkers have faced the Knights in most of the past eight district championship matches, and the competition is always fierce. "We have a tendency to start slow, for whatever reason," said Wallstrum, "but in this match we knew we would have to get out and put a little pressure on them right away."
He noted Kenmare matches up in size better with ORCS than with most other teams in District 12. "We play a little more relaxed against them," he said, "but they've got such a dynamic player in Ashley Koppinger, so we also talked about slowing her down."
Fans may have noticed a shift in the Honkers' offense from earlier in the season, with Munson handling nearly all the setting duties again and Katie Nelson playing from the outside rather than middle. "Since we've changed the offense, we're making fewer errors," Wallstrum said, "and every single girl tonight played very, very well."
The two teams met in three earlier matches, with Kenmare winning one of those and ORCS taking two. "We've played 10 sets against them this season, with a total of 15 points difference," Wallstrum said. "We averaged 1.5 points difference per set, so we knew we had just as good a shot at winning as they did."
He admitted the players' intensity level in the district tournament and the outcome did not surprise him. "They know the tradition," he said. "They love to play, and they don't want to be done!"
The team's seniors said they always enjoy the fast-paced matches against ORCS. "It's fun to play teams like them," said Hass, "and our crowd was awesome."
"We get more pumped up," Munson added.
Hass looked at Goettle and Munson. "I just thought about this now," she told them, "but this is our last game on our own home court. We wanted to win it!"
Partial stats for the match included Hass and Katie Nelson with 11 kills apiece.
At the net, Wallstrum made three key blocks.
Brown scored 2 points on aces.
Munson set up her teammates 25 times.
In the back row, Katie Nelson made 10 digs and Goettle logged 8.
District 12 honors
Munson and Hass were named to the 2012 All-District 12 Team for the Kenmare squad. They were joined by Ashley Koppinger, Morgan Olson and Emily VanLith of Our Redeemer's Christian School; Whitney Lee of Lewis & Clark; Callie Carlson of Mohall Lansford Sherwood; Payton Schumann of Glenburn; Shanta Zietz of DLB; and Quinn Harmon, Hannah Stewart and Gabbie Bohl of Bishop Ryan.
The District 12 tournament finished with two other upsets as No. 4 Bishop Ryan ended No. 3 Lewis & Clark's season 3-0, and No. 6 Glenburn surprised No. 5 MLS 3-2. Both contests were regional qualifier matches.
Kenmare started Region 6 play Monday against Towner-Granville-Upham, with Bishop Ryan taking on Bottineau, Glenburn playing Velva and Our Redeemer's facing Rugby. Semi-finals matches were played Tuesday night, with results unavailable at press time.