Thanks for reading some of the latest features about area people and events.
To view every page and read every word of The Kenmare News each week,
subscribe to our ONLINE EDITION!
First District Health Unit occupies its new space on Kenmare's west side square
Last fall, First District Health Unit public health nurse Melissa Burud was told she could move her office from its cramped location on the south side square to one of the new buildings available through the west side square revitalization project.
7/17/13 (Wed)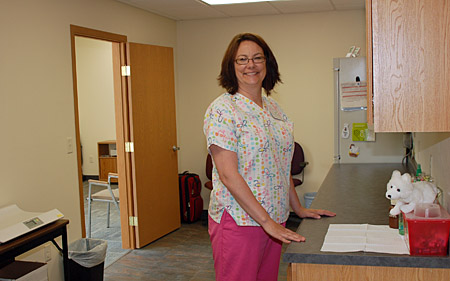 FDHU office offers privacy and space . . . First District Health Unit|
public health nurse Melissa Burud welcomes clients to her new office
and exam room located on the west side square. The exam room,
shown above, is set up as an immunization station, with a separate
and spacious waiting room, seen through the open door.
By Caroline Downs
Last fall, First District Health Unit public health nurse Melissa Burud was told she could move her office from its cramped location on the south side square to one of the new buildings available through the west side square revitalization project.
"I was told to plan the space," she said. "At first, I was nervous because I'm a nurse, not an architect."
As of July 9th, Burud had the office open for clients in the new location. "I wanted a nice place for people to be waiting," she said. "I wanted a nice office where I could meet with clients, and I wanted a nice exam room with privacy."
She gestured toward the closed door immediately behind her desk. "And I wanted a storage room!" she added.
Her wishes came true as she sketched a basic layout for the new space. The 1,100-square foot office more than doubles the size of her old office, with the added benefit of windows that provide a full view of the city park to the east and allow natural light to fill the rooms.
"I don't go in and sit in the corner any more," she said about her former office. "I see people on the square now. I can see the square! I know it sounds strange because the office has always been downtown, but now I feel like I'm in the midst of the community."
Burud is happy to offer a tour of her office, starting with a large waiting area that will soon be home to a children's corner complete with books, toys and a television that can show kid-friendly movies or educational DVDs.
The waiting area fills the front half of the office, with a restroom in the southwest corner. Clients can chat or read or care for their children while waiting to meet individually with Burud in her office, which now offers a private place to fill out paperwork.
From the office, clients can walk directly into the exam room, again maintaining their privacy. Burud has arranged one counter in the room to serve as an immunization center, with everything from needles to bandages stored in drawers and cabinets, all within easy reach.
A stand and shelves against the opposite wall contain scales and other equipment needed to measure infants, toddlers and children.
Everywhere, there are cupboards.
"They put in enough wonderful cabinetry for me to hold everything," she said. "I even have empty drawers still!"
Clients can exit through a second door into the waiting room even as Burud returns to her office to welcome her next appointment.
The entire facility is handicapped-accessible.
The improved privacy is only one of the benefits of the new office. Burud likes the location and convenience, a mere two doors away from Kenmare Drug's pharmacy counter, and the better parking options for her clients.
After spending years with boxes stacked on top of filing cabinets, educational displays tucked behind book shelves, and a tiny waiting area so crowded with chairs that mothers were forced to get creative with their strollers and car seats, Burud is thrilled that every item in her office can be put away in a specific place.
"The only items that are going to be out are items that need to be out," she said. "Parents will have room here, especially the moms coming in for WIC appointments."
Some of those items that "need to be out" will be educational posters and displays Burud has stored previously. "There are things I can showcase in here," she said, adding she intends to provide information on a wide variety of health education topics for children and adults.
She is considering offering classes or presentations in her new space, but she emphasized her regular foot care clinics would continue to take place at the Kenmare Senior Center. "Several clients have called and asked about that," she said.
She expects to stay busy, with more infants, young children and students in the area needing immunizations and increasing numbers of parents signing up for the WIC program. "I also want to do more educational programs in the schools and the community," she said.
Phase I nearly finished
on the west side square
Phase I of the west side square revitalization project is nearly complete, with the retail businesses Kenmare Drug and One Stop on the Square now operating from their locations in the building as well. A laundromat, owned by Robert and Mary Marmon of Mohall, will open in the space immediately west of the FDHU office, with its entrance facing north on 2nd Street NW.
The entire project, with State Bank & Trust of Kenmare president Jim Jorgenson as principal, will provide 24,000 square feet of new construction on the west side of Kenmare's downtown square, for an estimated cost of $2.4 million. Reishus Construction of Mohall serves as contractor for the project.
FDHU is leasing the space from the Kenmare Community Development Corporation.
Burud will maintain the same hours and offer the same public health services from her new location. She will continue to keep office hours on Tuesdays from 8 am to 4 pm, with WIC appointments available on the second and fourth Thursdays of each month. She can be contacted at the office's longtime phone number, 701-385-4328.
"I'm hoping more people stop by and feel more comfortable in here," she said. "I'm looking forward to welcoming people here!"