Thanks for reading some of the latest features about area people and events.
To view every page and read every word of The Kenmare News each week,
subscribe to our ONLINE EDITION!
Eighteen cooks fill 400 plates at new GooseFest cook-off
Kenmare's first Top Shot Chef title was up for grabs Wednesday night during GooseFest week.
10/30/13 (Wed)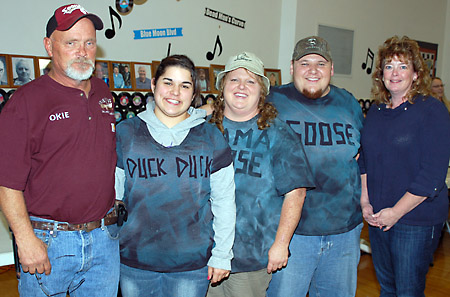 2013 Kenmare GooseFest Top Shot Chef winners (l-r) Roger Mathews in first place
with Okie's Ribs, Jorgia Boehler, Tawnya Gill and Kaleb Boehler in second place
with Meal-on-a-Stick, and Rebecca Thomas in third place with Mystery Salad.

By Caroline Downs
Kenmare's first Top Shot Chef title was up for grabs Wednesday night during GooseFest week.
Contest rules were simple: one electric roaster full of food prepared by one individual or team, any recipe or specialty, served to the public starting at 6 pm.
The event was limited to 18 teams, with first prize of $500 awarded to the entry receiving the most votes from the public.
Entries came slowly at first, but by early last week, the 18 slots were claimed. "We had a couple more teams call today who wanted in on this," contest organizer Larry Nore said Wednesday morning, "but I told them we were full."
The Top Shot Chef Showdown was open to anyone regardless of address, but all the 2013 entries were from the immediate Kenmare-Donnybrook vicinity.
The chefs came ready to win, serving a wide array of foods that appealed to all palates.
The menu included a hearty gumbo and a meaty gardener's stew for the opening course.
Some chefs featured game meats, with two different deer-and-pork brat entries, bacon-grilled goose, fish tacos, duck kabobs and pheasant egg rolls all served in style.
Other contestants offered side dishes, including brown-ale braised barbecue beans, cavatini pasta and two cold salads.
Roger Mathews cooked up a roaster full of his trademark ribs, while Casey Bennett prepared an authentic recipe for mojo roast pork with black beans from his time spent in Cuba.
The senior contestant, Glen Froseth, satisfied the crowd with old-fashioned country spare ribs. The youngest participants, Kaleb Boehler and Jorgia Boehler, wore shirts to match "Mama Goose" Tawnya Gill as the trio handed out their Meal-on-a-Stick complete with moose meatballs, baby red potatoes, corn on the cob and a miniature apple pie topped with whipped cream.
The public response to GooseFest's newest event was overwhelming, with nearly 400 plates filled for supper. The crowd included out-of-town hunters, new-to-town families, and longtime citizens rubbing elbows at the tables in the Memorial Hall while they discussed their favorite entries.
When the plates settled and the tickets were counted, Rebecca Thomas earned third place and $200 with her "Mystery Salad." She teased the crowd by promising copies of the recipe to anyone who could guess the secret ingredient in her entry, which was popcorn.
"One woman got it tonight," she said, adding she was already thinking about what to cook for the 2014 Top Shot Chef Showdown.
Gill's Meal-on-a-Stick, with 100 meals served, received second place and $300. Gill attributed her success to the goose decoy attracting people to her roaster and the tiny flying goose emblem molded into each miniature pie crust.
Mathews's "Okie's Ribs" entry won the day and Top Shot Chef distinction. He claimed he used his standard rib recipe for the event, but the secret may have been in the grilling process.
"I was up at 5 am," he said, "and started cooking these in the cold and snow this morning."
Mathews will hold Top Shot Chef honors until October 2014, when the next Showdown is scheduled for the 26th annual Kenmare GooseFest. Challengers are invited to start planning now.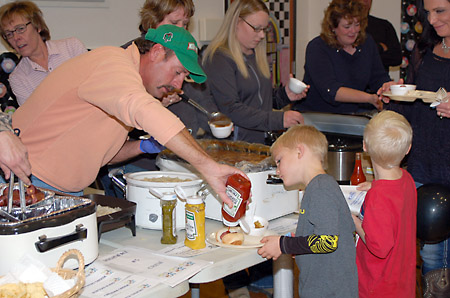 Top Shot Chef contender . . . Mark Jensen serves up one of his sausage brats
to a potential judge at the GooseFest Top Shot Chef Showdown last Wednesday.
Jensen offered five varieties of homemade brats, with a choice of grilled onions
or sauerkraut on a fresh bun. Behind him (l-r), Barb Gottschall, Sam Essler,
Laura Williams and Rebecca Thomas serve from their roasters,
trying to win votes with their own tasty recipes.