Thanks for reading some of the latest features about area people and events.
To view every page and read every word of The Kenmare News each week,
subscribe to our ONLINE EDITION!
Doctors still learning about Churg-Strauss disorder afflicting Ron McNeiley
"The prognosis is good," Ron McNeiley said February 1st about a disease that has completely changed his and his family's lives. "Once we get the leg figured out, it'll be much better."
2/13/13 (Wed)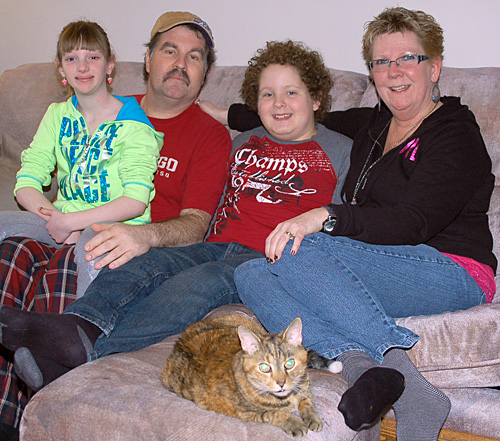 The face of Churg-Strauss Syndrome . . . The Ron McNeiley family of
Kenmare appreciates the generous support shown from the community
as they live with Ron's diagnosis of Churg-Strauss Syndrome,
a rare autoimmune disease that can be managed but not cured.
By Caroline Downs
"The prognosis is good," Ron McNeiley said February 1st about a disease that has completely changed his and his family's lives. "Once we get the leg figured out, it'll be much better."
Getting the leg "figured out" meant the next of what may become many trips to Mayo Clinic in Rochester, MN. Ron has been diagnosed with Churg-Strauss Syndrome, an autoimmune disorder marked by inflammation of small to medium-sized blood vessels. The inflammation can restrict blood flow to vital organs and tissues, according to the Mayo Clinic website.
"It cuts the oxygen flow to the organs and extremities," said Tami, Ron's wife. "If they don't alleviate the problem, it can cause permanent damage and paralysis."
Churg-Strauss Syndrome (CSS) wasn't identified as a disease until 1951. The CSS Association describes it as a "...baffling disorder that is difficult to diagnose and one whose effects vary widely from patient to patient." (See related article in this issue.)
The information that is consistent maintains that CSS is not contagious, the causes are unknown, and there is no cure. The average of age of patients diagnosed with CSS is between 35 and 45, with slightly more men than women affected. The disorder is so rare that doctors estimate somewhere between 720 and 3,000 people in the U.S. have it.
Ron McNeiley is one of those very few.
Search for a
diagnosis and treatment
For the McNeileys, finally obtaining a diagnosis provided a measure of relief after years of unexplained symptoms.
The trouble started for Ron with extreme fatigue and flu-like symptoms. "For months, he would come home from work and say, 'I'm so sick,'" Tami recalled. "In one year, his eyes changed dramatically. We didn't realize it was all coming together."
Another clue came when severe sinus problems started about two years ago. Ron knew he had adult-onset asthma, but during that spring, sinus inflammations would overcome him. "I couldn't breathe, I couldn't swallow, I couldn't sleep, my face swelled up," he said. "Nothing worked to stop it."
In fact, while driving alone to meet Tami and the couple's children for a particular camping trip during that summer, the sinus situation became so serious Ron had to pull over and phone for help.
Clinic and emergency room visits came back over and over with diagnoses of bronchitis or pneumonia, but treatment for those illnesses provided no relief.
Finally, about a year ago, more pieces of the CSS puzzle fell into place. "The bronchitis and pneumonia never went away, so they sent him to Minot, where they did a blood test and found his white blood cells were out of whack," Tami said. "The cells were attacking his organs and causing circulatory problems."
Ron saw Dr. Jeffrey Verhey and FNP-C Heidi Bender, both of whom specialize in pulmonary care at Trinity Health. Verhey and Bender suspected CSS, although they were not especially familiar with the disorder. "They did some testing and came up with Churg-Strauss," Ron said.
The diagnosis surprised everyone, including medical staff at Mayo Clinic, one of the few hospitals in the country conducting research on CSS. The McNeileys are grateful to the Trinity doctors for both the diagnosis and the immediate treatment plan put into place. "They're the best," said Ron.
He was started on steroids, mostly high doses of prednisone. "That helps the breathing and the sinuses," he said. "Now, the sinus troubles are just off and on, and the breathing has improved about 80 percent."
His regimen includes rounds of cytotoxic drugs (chemotherapy) and one injection of interferon each week, which are generally used to treat cancer. "The doctors who first worked with this disease learned they had to use chemotherapy and steroids together to try to stop it," Tami said.
The treatment comes with many challenges. Among other problems, the steroids can lead to fractured bones and kidney, heart and other organ failure, while the chemotherapy can interfere with organ and system functions and interferon is known to cause high fevers.
"It's hard on your body," Ron said. "There are a lot of side effects."
That's his low-key way of saying he has been so sick at times from both the CSS and the drugs treating it that he couldn't even feed himself, much less rest. Some rounds of chemotherapy and interferon left him with days of round-the-clock high fevers resistant to cold baths and intense pain that couldn't be relieved even with morphine.
In fact, his pancreas stopped working at one point, which led to a hospital visit. "They had to give him shots of insulin to get it going again," said Tami.
The medications cannot reverse damage that has already occurred in Ron's body from the CSS, including his right lung which has been impacted by the inability of the blood vessels to transport oxygen.
He is also living with severe hip and leg pain on his right side, pain that kept him bedridden for a while.
Doctors had to determine if the steroid doses were the culprit of that pain and numbness. They considered a hip replacement, which is not uncommon for CSS patients taking prednisone.
However, during a visit to Mayo Clinic and a Churg-Strauss specialist in January, a series of tests with electric probes and sensors attached to his feet and legs indicated possible nerve damage, which is often associated with the third stage of CSS known as vasculitis. "They test to see how the nerves were reacting," said Ron. "It was quite painful."
Tami glanced sideways at her husband. "Actually, he looks really good now, just in the last three weeks since the Mayo visit," she said. "The doctors did some things to open the veins and changed some of the medicines. They started the new chemo November 27th and by January 6th, his blood was already better."
Ron as a research study
The McNeileys returned to Mayo Clinic last week. Doctors there checked his nerve pain and the condition of the blood vessels around his spinal cord, which has been tender lately and may be related to the hip and leg pain.
"Churg-Strauss attacks the weak spots in your body," said Tami. "Ron has had back problems for years, so that's where it could go next."
"I've been through every scanning machine that's been invented in the past year," Ron said, with a slight smile.
The strategy is to treat Ron's condition quickly and aggressively, which gives him the best chance for keeping his CSS under some sort of control. "They tell us there are going to be flare-ups," Tami said. "So then they do what they have to, to stop the flare-up and get the Churg-Strauss into remission."
Ron is growing accustomed to the treatment routine, which includes checkups every 30 days with his own doctors in Minot and any visiting doctors from across the U.S. who come by just to observe his case. "I'm probably the only Churg-Strauss patient they have ever seen," he said.
"It's just so rare," Tami said. "They're still learning about it."
Ron has researched what he can find about the disease on his own. "By the time they discovered this in 1951, about 90 percent of the people with it died right away," he said. "Now, when it's treated, about 92 percent of patients live through the first year. After that, there's about a 62 percent survival rate."
Churg-Strauss is not considered to be an inherited disease at this point, but Ron may provide a key to that question, too. "His grandpa died of breathing problems," Tami said, "and at the time he died, he couldn't walk because he had so many pains in his leg. It may have been Churg-Strauss, but they didn't know it at that time."
Because of the high white blood cell count, CSS has sometimes been misdiagnosed as leukemia for decades. "Which means patients would get the chemotherapy, but they wouldn't get the steroids," Tami said, "so then the treatments wouldn't work for them."
Family lives with CSS
All four members of the McNeiley family have lived with Ron's condition, doing what they could for him through the pain, the uncertainty and the chemotherapy sessions. "I think it has made us closer as a family," Tami said. "Now, we don't go out much without each other. Your whole life changes in an instant."
The McNeiley's son Jaden, a fourth grader, and daughter Abigail, a second grade student, are directly involved in their father's care. In fact, after a few hospital visits where the kids did their homework in the waiting room, Jaden insisted on meeting the doctors
"There's no other place to hear this stuff than right from the people who are dealing with it," he said. "I was worried."
The kids witnessed their father's symptoms and frustrations. Now, armed with a diagnosis and a plan, Abigail spends time close to Ron's side and coaxes him into drinking his favorite soda. She supports his new habit of chewing gum, another result of the chemotherapy, and she bakes cookies and cakes to tempt his poor appetite.
"I want him to feel better," she said.
Jaden listens to and watches both parents, noticing times when they need him and paying attention to changes in his father's condition. Like Abigail, he runs errands for Ron and discusses the happenings in his classroom and the weekend basketball games Ron cannot attend right now.
Jaden freely talked about praying for his father, and he described one particularly difficult night where he parked himself on the bench in the kitchen and asked for his dad to be healed.
"About two hours later, I was happy," said Jaden. "I told Mom I didn't know God worked that fast."
He has also started keeping a journal to record the family's experiences. "I write about what it's like to travel and what goes on with Dad and stuff like that," he said. "I let Dad read it."
Surprises from
the community
The McNeileys have lived in Kenmare for many years, with Tami working as an elementary teacher and Ron as a mechanic at Farmers Union Oil. They have lots of friends in the community, but the response to Ron's illness has overwhelmed them.
"People in town have been just wonderful," Ron said, "giving us gifts of their time and money and food."
"Especially the food," Jaden added with a grin. "Mmm, apple pie."
The McNeileys' sidewalks and driveway have been cleared after snowy days, without asking. Groceries and meals show up, along with cash to pay for fuel and food for medical visits.
Cards filled with prayers and good wishes stuff the mailbox. One even arrived from Governor Dalrymple that mentioned the family's time in Bismarck two years ago when Jaden was one of Kenmare's "Ladybug Kids" lobbying for the state's official insect.
Both Ron's and Tami's supervisors at work have encouraged them to take the time they need for Ron's appointments and care. "People call all the time, checking up," Ron said.
Knowing the McNeileys' fondness for a bright display of Christmas lights, several friends also volunteered to decorate the family's yard this year.
"Those are the kind of things people in this town are doing," Tami said. "I feel like going out and just hugging everyone."
She continued, "The hardest part is, how do you thank everyone? At first, I was embarrassed because I've never had anyone give me anything of that nature. It's easier to give than to accept."
The latest flare-up
The extreme pain and numbness in Ron's right leg, along with side effects of his treatment, have kept him housebound for the past two and a half months. "Walking from the house to the car to go see the doctor is a big trip for me," he said.
He has used a walker for assistance and recently graduated to a cane. His plan is to get this latest CSS flare-up under control so he can return to work on a part-time basis.
Ron has also been approved to test a new drug when it becomes available later this spring. "If it can help someone down the line, it's worth it," said Ron. "They'll be doing blood work on me. I suppose I'll be filling out questionnaires and there will be occasional biopsies, but I said right away I'd be willing."
"This new drug isn't supposed to have the same side effects as some of the others he's taking," added Tami.
Ron has been working with Dr. Ulrich Specks and his pulmonary care team at Mayo Clinic, who keep close tabs on their Kenmare patient. "They've been calling him at least twice a week, checking on him," said Tami.
Ron laughed. "When we left Mayo [in January], that same afternoon by 5:30 one doctor called," he said. "He said my white blood cells looked really good that day, then he wanted to know how we were doing and how our travel was going."
He continued, "As busy as they are there, they take time to interact with you."
Tami appreciates the positive atmosphere at Mayo. "They're so upbeat," she said. "That happiness was contagious."
CSS and the
Christmas tree
Despite the nature and uncertainty of Ron's disease, the McNeileys stay upbeat and encourage each other at times when the reality of Churg-Strauss becomes overwhelming. "Ron has the most positive attitude about this," Tami said. "In the hospital, he was always asking about everybody else, how they were doing. His attitude has helped him make it through this."
Ron said once he heard the diagnosis for Churg-Strauss Syndrome, the first thing he asked Dr. Verhey in Minot was if he was going to die from the condition. "He told me, 'You can, but when it's diagnosed early and with aggressive treatment, you can manage it,'" said Ron.
"You have to keep on top of it. You can't let it get out of hand or it's gone," Tami added. "The doctor told him, 'I can't fix you, but I can help you.'"
The McNeileys know they will be making Ron's medical care and schedule their top priority in the months and years to come, and they are well aware of the chance for flare-ups and the fact that when the disease goes into remission, Ron will still be dealing with the impact of powerful drugs on his body.
However, the family takes one day and one improvement at a time. Right now, they want Ron to gain more mobility, free of pain, in his right leg.
To mark the days until that happens, the family has kept their Christmas tree, fully decorated with bright ornaments and lights, on display in front of the living room window for everyone to see.
"We're not bringing it down until he's walking again," Tami said. "I don't care if it's spring or this summer. I've told our friends if they go past our place and don't see the tree up any more, that's good news!"
Ron laughed. "It might be up till next Christmas," he said, "but maybe we'll put new gifts under it every month."
Friends of the McNeileys have planned a benefit breakfast and silent auction for Ron on Sunday, February 24th at Kenmare High School. Anyone wishing to donate items for the silent auction should contact Marla Jensen (701-385-4067 or 701-848-6427) or Kathy Schumacher (701-848-2255 or 701-848-6036) by February 15th.
Monetary donations to assist with Ron's medical and travel expenses can be mailed to Town & Country Credit Union, Ron McNeiley Benefit, P.O. Box 757, Kenmare, ND 58746.