Thanks for reading some of the latest features about area people and events.
To view every page and read every word of The Kenmare News each week,
subscribe to our ONLINE EDITION!
Artist Robin Carlson shares Norwegian tales with Amtrak passengers
Robin Carlson of Kenmare boarded Amtrak's Empire Builder train on July 23rd with her troll, Magnus Haakon Misse, by her side.
8/07/13 (Wed)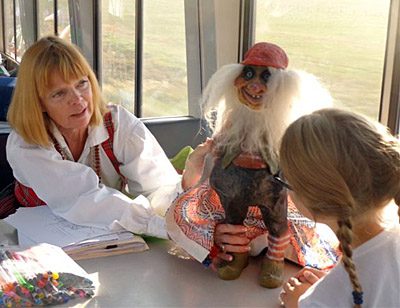 Riding the rails with a troll . . . Robin Carlson of Kenmare shows
her troll Magnus Haakon Misse and some of her traditional Norwegian
weaving to a passenger riding Amtrak enroute to Havre, MT. Carlson
participated in the Trails & Rails program offered by Amtrak,
in partnership with the National Park Service and the North Dakota
Council on the Arts, where she shared stories and information
about her Norwegian heritage with other riders.
By Caroline Downs
Robin Carlson of Kenmare boarded Amtrak's Empire Builder train on July 23rd with her troll, Magnus Haakon Misse, by her side.
She had one purpose in mind for the journey: to share her Norwegian tales with as many passengers as possible on the line between Minot and Havre, Montana, as a folk artist participating in the Summer 2013 Trails & Rails program.
Carlson, who is listed on the North Dakota Council on the Art's artist-in-residence roster, was tapped to perform on the Empire Builder July 23rd and 24th. "I just kept talking to people, from the minute I got on the train until I was done," she said. "It really was a fascinating experience for me."
She became one of the NDCA's artists-in-residence 20 years ago, focusing presentations held in schools, nursing homes and other venues on her love and appreciation for Norwegian culture and heritage. She describes herself as a Norwegian weaver, yarn maker, sculptor and tale spinner, and dons a red bunad, a traditional long skirt and bodice worn by Norwegian women, for the performances.
The bunad often broke the ice for Carlson on the train as it attracted the attention of other passengers. They questioned her about the outfit, which gave her the opportunity to explain the relationship between the colors and fabrics used and her Norwegian ancestry.
The troll also drew attention from strangers, especially children. "Magnus Haakon Misse was a troll that took care of the farm animals," Carlson explained. "Sunlight can never touch a troll or he will turn to stone."
That fact about trolls' well-being allowed Carlson to share her prize-winning weavings, one of which was wrapped around Magnus as protection from sunlight. The patterns of Carlson's various woven pieces represent different regions across Norway. She showed the birth-to-death cloths she weaves, along with the "Telemark" teppe.
Carlson's weavings have been included in a variety of Scandinavian exhibits and contests, but having the chance to sit and visit about her work with train passengers from around the country brought a new significance to the pieces.
"We did some culture comparison," she said as she talked about meeting people from different states and backgrounds. "And the food! Many of them had no concept of lefse. Of course, they've never had it."
Through the casual discussions, Carlson was able to engage other train riders in storytelling. She has a couple of dozen Norwegian stories in her repertoire, including traditional tales and some original tales she has based on Norwegian mythology, characters or history.
One of her favorite stories involves thunderstones, those small stones which, according to Norwegian lore, prevent lightning from striking a house or building if twirled around the head and thrown at the structure's door.
"The real stones are stone," said Carlson, "but I didn't think that would be a bright idea in the train, so I made mine out of hand-felted wool."
She attached buffalo hair to her stones to enhance their effect. Her audiences loved them. "I had all ages of people listening," she said.
Carlson views her role as storyteller as a means to honor her ancestry, as well as a way to highlight universal connections she sees among all cultures. She extends the stories for her young listeners through art. "I have a portfolio of pictures I've drawn of some of the trolls," she said. "I make copies of those and hand them to the children, along with crayons or markers I have along. They love that!"
North Dakota program
wins national recognition
According to Amtrak, Trails & Rails is an innovative partnership program between the National Park Service and Amtrak, providing rail passengers with educational opportunities that foster an appreciation of a selected region's natural and cultural heritage.
Through the program, Amtrak passengers can connect to public lands and engage in a better understanding of the need to preserve and protect these special natural and cultural resources.
Carlson said she often answered questions about the landscape and described the topography of western North Dakota for her audiences. "So many of the visitors from the eastern part of the U.S. had no idea what they were seeing," she said.
The NDCA began its association with the Trails & Rails program in 2002, in conjunction with the Lewis and Clark Bicentennial.
Over the past decade, NDCA has coordinated and funded folk artist presentations on the Empire Builder train in its travels through North Dakota. The program runs between Minot and Williston and Havre, MT. Live presentations about native cultures, ethnic groups, special places, and local music have entertained countless Amtrak passengers.
According to a NDCA press release, the response to these programs has been overwhelmingly appreciative and positive. Passengers have stated they choose specific dates to book travel plans based on the presentation schedule. The program has been nationally recognized for its innovative approach and cooperative efforts in the National Park Service, and in March 2013, the NDCA was presented with the 2013 National Trails and Rails Partnership Award.
"Our program connects with people from all over the United States as well as from other countries," said Troyd Geist, program coordinator and NDCA folklorist. "The traditional artists who perform on the train present a positive face of who we are as North Dakotans to many people who previously had little or no exposure or had negative perceptions of our state."
Carlson was one of six folk artists who performed in the Trails & Rail program along the Minot-Havre route. During the six weeks when the performances are offered, other artists included accordionist Gerald Schlag, Mandan/Hidatsa flutist and storyteller Keith Bear, fiddle players James "Chubby" LaRocque and Brian LaRocque, and Irish musician and storyteller Debi Rogers.
Other artists who have participated in past years include Mary Louise Defender Wilson, Dakotah storytelling; Delmar and Linda Ann Falcon, Mitchif fiddle music; Eddie "King" Johnson, Mitchif fiddle music; Preston Schmidt, fiddle music; Dan, Bridget, and Owen Jerome, Ojibwe culture and traditions; Judith Simundson, Norwegian music, singing and storytelling; and Jacob Zerr, accordion music.
"I had never done the train programs before," Carlson said, although she knew the NDCA partnered with Amtrak and the National Park Service for the Empire Builder programs. "I really enjoyed it, and I'll do it again next summer."