Thanks for reading some of the latest features about area people and events.
To view every page and read every word of The Kenmare News each week,
subscribe to our ONLINE EDITION!
Donations allow Berthold Fire Department to update equipment
The Berthold Fire Department has been updating their vehicles and equipment this fall, thanks in part to individual and corporate donations.
12/22/10 (Wed)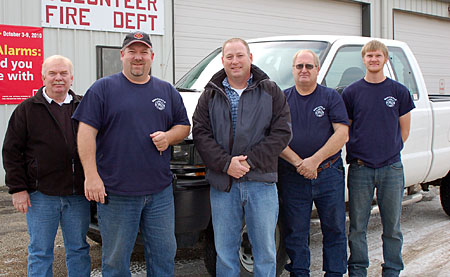 New truck for the fleet . . . Representatives of Enbridge Pipelines
(North Dakota) LLC present the Berthold Fire Department
with the gift of a 2004 3/4 ton V10 pickup for use as a brush truck.
Pictured, l-r, are Enbridge area supervisor Gary Blowers,
Berthold fire chief Richard Blahut, Enbridge area coordinator
Jim Tate, Berthold assistant fire chief Gary Rademacher
and Berthold volunteer firefighter Jarrod Rademacher.
By Caroline Downs
The Berthold Fire Department has been updating their vehicles and equipment this fall, thanks in part to individual and corporate donations.
One contribution came from Enbridge Pipelines (North Dakota) LLC in the form of a pickup taken out of service by the company. It just so happens the 2004 3/4-ton truck will be perfect for modification as a brush truck.
Jim Tate, area coordinator, and Gary Blowers, area supervisor, both at Enbridge's Minot office, made the presentation to Berthold Fire Chief Richard Blahut in November. "This is part of our public affairs and right-to-know safety [program]," said Tate. "We donate to facilities in direct support of anything we do in the area."
Blahut said he had been working with Enbridge community relations advisor Kesley Myhre in Minot to coordinate the donation. "We've been talking about how we can partner up with [Enbridge's] new facility," he said, "and how the fire department may need to react." He emphasized that training and communication between the two entities will continue so the Berthold firefighters are prepared in the case of emergency.
The department's new truck replaced a 1976 Dodge in service for years. "It has a 250-gallon grass and brush unit that will be transferred," Blahut said.
He also noted the automatic transmission of the new truck. "With a volunteer department, having equipment that's easy to use is just as important as its function," he said.
BFD has FITs
Once those volunteers arrive on the scene of a fire, especially a structure fire, they now have more options about how to proceed with the attack. The Berthold Fire Protection District recently put two Fire Interruption Technology (FIT) devices into use, designed by ARA Safety.
The small red devices appear harmless, almost like a child's toy, but when deployed they interrupt the fire combustion cycle of fuel, oxygen and ignition. "This reduces the heat and suppresses the fire," Blahut explained.
A fire can be burning at 1000 to 1200 degrees Fahrenheit, but the FIT device works to reduce that temperature to 200-300 degrees, which allows better access to the flames for firefighters. "That's pretty dramatic in fire terms," said Blahut, "especially if you have the capacity to do that in a volunteer situation. One or two of these units could buy enough time to make an attack."
The FIT devices can be deployed into fire-engulfed areas such as rooms in houses, shop areas, offices and mechanical rooms. Blahut compared the unit to a grenade, with firefighters having six seconds to deploy it after pulling a release.
"As a rural department, mutual aid is 10 to 12 minutes behind us," he added. "This gives us the capability to deploy a device and potentially put out the fire. At the least, it buys us time."
A presentation about the FIT devices given by Minot Rural Fire Chief Rex Weltikol first raised Blahut's interest and curiosity. "We have about five core members [in the Berthold department]," Blahut said. "After seeing it, I said we've got to figure out how to get that."
Each FIT unit is stored in its own padded case and retails for $1200. Blahut was able to purchase two at a cost of $950 apiece. "Right now, [assistant chief] Gary Rademacher and I have those in our vehicles," he said. "We plan on buying two more for the responding unit to have them on the scene very quickly.
According to Blahut, the purchase of the FIT devices was possible in part because of generous memorial donations from the friends and families of Ellen Hornberger, Marlon Laumb, Johnny Hansen, W. "Bill" DeBilt and Geraldine "Jerry" Meyer, and the continued Fire District support from David and Cathy Shelkey, Ralph Brown, Darrell Meyer, Dennis and Gayle Hanna, and the Berthold American Legion.
Blahut ordered the FIT devices through Great Plains Fire in Fergus Falls, MN, and said they seem to be popular among fire departments in Canada. As far as he knew, the Berthold Fire Department was the only entity in a five-county area to have the devices available. He and Gary Rademacher were the first two members certified in the use of the devices, with the rest of the department scheduled to become certified.
"We have to assess each building and situation when they come up," Blahut said, "and $1000 in a case is a lot of money. Hopefully, these never get used, but it makes your department better for having it!"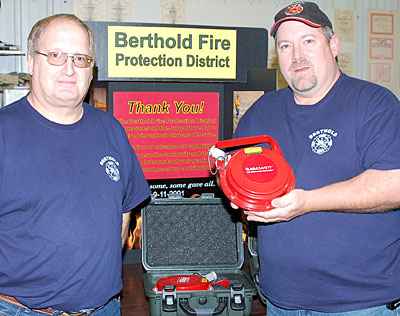 FIT to aid firefighters . . . Berthold assistant fire chief Gary
Rademacher, left, and chief Richard Blahut show one
of the two new Fire Interruption Technology devices purchased
by the department with the help of several generous memorials
and donations. The FIT units can be deployed to reduce
the temperature of a fire burning in a room or contained area,
giving firefighters a better opportunity to attack the blaze.