Patience pays off for Courtney Seime as he downs 52-inch bull moose
Posted 10/31/12 (Wed)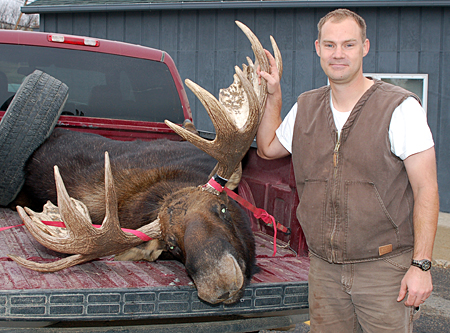 Patient hunter bags his bull . . . Courtney Seime fills
his once-in-a-lifetime North Dakota moose tag with a bull he
followed for nearly a month before getting a shot. The 52-inch
bull was taken on the former Arnold Mickelsen farm southwest
of Niobe on October 22nd.
By Caroline Downs
Patience paid off for Courtney Seime about 9:30 on the morning of October 22nd when he finally took the shot he was waiting for--and brought down the bull moose he'd been following for more than a month.
"I saw a lot of moose this season," he said. "I passed up a lot of moose."
The wait resulted in tagging the same bull, with antlers measuring about 52", he first saw a week before the season started. "I was able to drive up by it then and get pictures of it then," he said.
For the next three weeks, Seime's moose hunt was all about the chase as he drove the gravel roads and prairie trails looking for his quarry again. "We've put a lot of miles on the pickup," he said. "We just did 230 miles on Saturday and Sunday. I had lots of people call me to tell me they saw him."
Seime, who teaches physical education classes for Kenmare Elementary School students, has spent most of his hunting time with son Cohen, age 5.
The two asked permission from Kenmare Elementary School principal Janis Gerding to be "sick" on that Monday after arriving at school and getting a call the moose had been spotted.
This time, Seime's father, John Seime, saw the bull while hauling hay with Ralph Melin at the former Arnold Mickelsen farm, southwest of Niobe. After receiving the call, Courtney Seime and Cohen headed out to the field, where Seime finally took his shot at the big bull, much to Cohen's delight. "I think he was getting impatient with me," said Seime.
The hunt was truly a family affair, with Seime shooting the bull on his grandfather's farm using a .300 Winchester short magnum rifle on loan from his uncle, Marvin Lindquist of Kenmare. Seime's father, uncle Ralph Melin and cousin Jordan Mickelsen all helped him gut and clean the animal.
"And we had the loader tractor sitting 400 yards away, where they were hauling hay," Seime added, "so we just used that to load the bull."
Because area locker plants were already busy, Seime took the moose to a meat processing plant in Garrison where steaks, roasts and burgers will be made. Seime plans to mount the antlers, with large patches of soft, brown velvet still intact, for display. "I don't have a wall big enough for a head mount," he said.
The moose had obviously been a target for other hunters. "This bull had been shot with a bow," said Seime. "I found a broadhead in it when I was gutting it."
Seime was all smiles as he talked over the hunt with friends and relatives in Kenmare, while Cohen showed off the antlers. "I'm a patient man," Seime said, "and Cohen's relieved now that we're done hunting!"