Hunting companions share stories about Hall of Fame inductee Larry Nore
Posted 10/17/12 (Wed)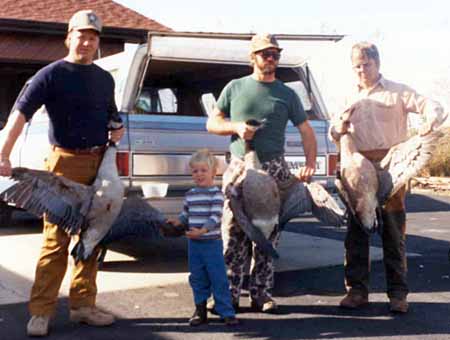 In their younger days . . . Kenmare hunters Rick Harris (left), Arlen Gartner (center)
and Larry Nore show young John Nore just what he'll be aiming for when
he joins them in the field some day.
If you're not shooting, you're not having fun

By Caroline Downs
While stories told by the 2012 North Dakota Goose Hunters Hall of Fame inductee Larry Nore can be riveting, stories told about him are even better.
Just ask two of his frequent hunting companions, Arlen Gartner and Jerry Essler, who shook with laughter as they described three decades of hunting with him.
"The first thing he'll say on a hunt is, 'If you're not shooting, you're not having fun,'" Gartner said. "One of the things about going hunting with Larry, you know something's gonna happen."
"And it's usually something bad," Essler added.
"Either his gun plugs up or he runs out of gas," Gartner continued.
"Or he doesn't bring shells," Essler finished. "We've seen a lot and some of the stuff, you just can't say."
Essler laughed as he described one pheasant hunting trip when he and his father Allan Essler watched Nore talk himself out of trouble. "We were coming back from Crosby and it was on Election Day," said Essler. "Larry was driving something like 85 miles per hour."
Essler had warned him about seeing highway patrolmen on that stretch of road, but Nore ignored him until a patrolman actually pulled the car over and asked Nore if he knew how fast he was driving.
"Larry looked at the guy and told him, 'I've got to get back and vote,'" Essler recalled.
The patrolman exploded with laughter, according to Essler. "He said he'd heard a lot of excuses, but he'd never heard that one before," said Essler. "He told Larry, 'I'll let you off this time but make sure you get back and go vote."
The two men hunt with Nore as much for the entertainment as for the birds. "If you need to relieve the stress, just go with Larry hunting," Essler said. "You know he'll do something stupid, and then it's all over."
"He's just lucky he has people like us who take him along," Gartner said as he launched into a story about hunting geese near the Nore home north of town.
"The geese weren't coming in," he said. "Larry gets tired of waiting and he heads to the house for a cup of coffee. He thinks he's so smart, in there drinking his coffee. In the meantime, we're out there shooting the geese!"
Essler chuckled and told his own story about the last time he hunted snow geese with Nore and former Kenmare resident Carl Bergman. "We drove and drove until we were way up by the Canadian line," Essler said. "It was windier than heck and the geese were coming in from the north. Larry said, 'Let me out in the ditch!'"
The other men did just that, then sat in the vehicle to enjoy coffee. "Larry was shooting and shooting and shooting," said Essler. "He got two, but he didn't even know it. The wind just blew them toward us. I had to show him the birds when he finally came back."
"He blames his gun, he blames the shells, he blames the wind," Gartner said, "but he can't shoot straight. That's a fact."
"But we keep hunting with Larry," Essler said. "We have to. He's got the dog. I'm going pheasant hunting with him Saturday and I can't wait because he's got a new dog!"
"It's fun watching Larry with his dogs," said Gartner, adding that he hunted ducks with Nore and the new dog earlier, although the dog refused to retrieve any waterfowl. "He only shot twice the other night. He was in 'training mode.'"
"As we get older, it isn't about the kill," Essler said.
"It's about having fun," said Gartner.
"And you can't plan a hunt with Larry," said Essler, shaking his head.
"Plans?" asked Gartner. "No."
"When we allow him to plan it, it's real shot in the dark," Essler continued.
"He gets me in more trouble," said Gartner. "I think the reason he went hunting with me was because I brought the food."
"That's the truth," Essler agreed. "Arlen brought the food. Larry brought the dog, and I pretty much brought everything else."
The two men joked about Nore's selection to the ND Goose Hunters Hall of Fame and noted goose hunting isn't always Nore's strong point in the field. "He's more of an upland game hunter," said Essler.
"But he's been involved in the community, with the ambulance and Vet's Gaming, and he's been involved in GooseFest since day one," added Gartner.
"He won't be in the front talking, but he's always helping," Essler said.
"He and Judy have cooked [for the Wild Game Feed] for a lot of years," said Gartner.
"And he promotes us," Essler said, then laughed again. "He can start a conversation with anyone, and he's not afraid to. Although sometimes he comes across as a little strong!"
"We just have fun together," Gartner said.
"Sometimes you wonder why did you go, but we laughed all day, I'll guarantee you that," Essler added. "He's the only guy I know who comes dressed up as Paul Revere on the first day of deer season."
Gartner leaned back in his chair and lifted his hands. "Enjoy the moment," he said.
"You have to," Essler said, "with Larry."