Razing of 50-year-old building reveals remains of century old businesses
Posted 6/26/12 (Tue)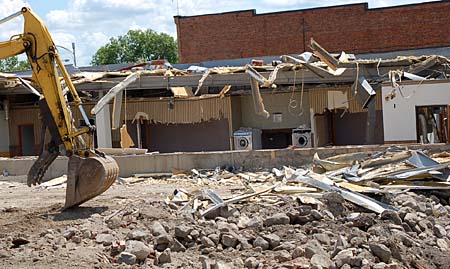 Archaeological dig . . . The rubble in the foreground appears
to possibly be from the stone building that once stood at the
location, the J.A. Englund stone building that existed
on the west side square in 1901.

By Terry Froseth
A look through the "Down Memory Lane" feature this week reveals an interesting coincidence.
Exactly 50 years ago, the grand opening of Johnson's Standard on the west side of the downtown business square was announced.
That was June 27, 1962. On June 27, 2012, there are only bits of evidence of the old Standard station left, as demolition has been ongoing for the past two weeks.
Once the crew started to bust through the concrete floor and driveway of the old service station, they encountered tons of rock and mortar used as fill.
The rocks and mortar appear to be the remains of what may have been the first building on that location, built prior to 1901.
This week, the demolition crew is excavating red brick, also buried under the concrete driveway.
This could be the remains another business building that once stood on the location of the laundromat, which has also been razed this past week.