One Stop completes restaurant expansion
Posted 5/16/12 (Wed)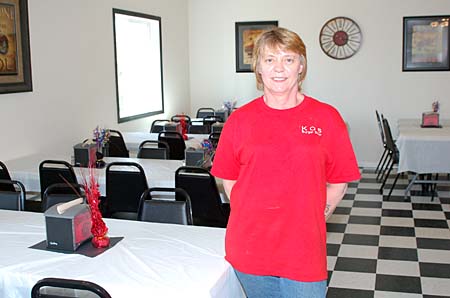 Penny Sigloh in the new dining/meeting room
at the One Stop Burger Shop.
By Caroline Downs
The Kenmare One Stop Burger Shop can now accommodate reunions, meetings, birthday parties, baby showers or other gatherings in a new addition, completed last week and opened to the public on Mother's Day.
"We served about 70 people Sunday," said owner Penny Sigloh, standing in the new room with black and white tiles and 1960s vintage decor to match the main serving area of the Burger Shop.
The addition was always part of Penny and Dave Sigloh's plans for their business when they started construction on the new restaurant building last summer to replace the Chill-N-Grill drive-in. However, the Mouse River flood in June and July led to construction delays throughout the region, and the Siglohs opened their new building without the meeting and buffet room they wanted.
Fortunately, a mild winter resulted in an early construction season this year. "They were scheduled to start on this May 1st," Penny Sigloh said, "but the weather was so nice they started in mid-April, and it took them three weeks to build it."
The Burger Shop buffet/meeting room can be used to seat groups larger than six anytime, with space available for about 50 people. Meetings and private parties can be held there, with doors separating the room from the main restaurant. The room is also handicapped-accessible.
"Groups can request their own buffets in here," said Sigloh. The full Burger Shop menu is also available to anyone using the room, and Sigloh will be creating special meal packages, including select buffets and even a birthday party option with pizza and the new ice cream cakes the Burger Shop is baking and decorating for customers.
With the building now done, Sigloh is making some changes to her restaurant business. "The hotdishes [as noon specials] have been going fantastic, so we're going to be adding more dinner-type items like hot beef sandwiches and chicken-fried steak to the menu," she said.
The drive-in window will continue to be open, and the beloved ice cream treats will continue to be featured.
Sigloh announced the new buffet/meeting room would be her last major project. "We're this close to being done with the whole thing," she said, adding that the final step will be to pave the parking lot for both the Burger Shop and the Kenmare One Stop businesses.
Organizations, families or other groups can call 701-385-4370 to reserve the Burger Shop buffet/meeting room for special events and activities.