Construction gets started on two new 12-plex apartment buildings
Posted 5/16/12 (Wed)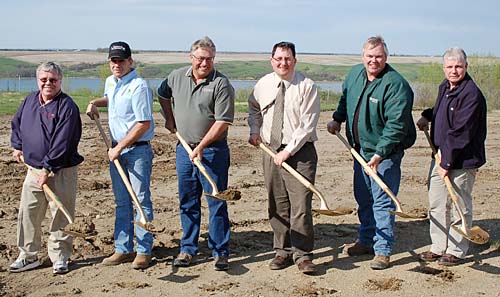 Breaking ground for housing in Kenmare . . . Tom Serie, left, of
SW Design Build, Inc., provided shiny gold shovels for
groundbreaking ceremonies held for the two new 12-plex units
to be built along Division Street in Kenmare. Serie was joined by, l-r,
Kevin Borud of Gooseneck Implement, Mayor Roger Ness for the
city of Kenmare, Jamie Livingston of State Bank & Trust of Kenmare,
Tim Harris of Farden Construction, and Jerry Essler of the
Kenmare Community Development Corporation.
By Caroline Downs
After months of discussion and planning, the first shovelfuls of dirt were finally moved Thursday at the location of the two new 12-plex apartment buildings along Division Street in Kenmare as developer Tom Serie of SW Design Build in Minnesota met with local business leaders to officially break ground on the project.
The projects were announced in February, with one planned by Gooseneck Implement and the other by the Kenmare Community Development Corporation. Both projects were approved to receive up to $265,000 from the ND Housing Finance Agency's new Housing Incentive Fund (HIF) to support affordable housing construction in communities.
Each 12-plex is estimated to cost $1.35 million, according to Serie.
He promised the 12-plexes could be built quickly. Farden Construction equipment started digging footings for the buildings' foundations on Friday. "Cement work will take a week," Serie said. "The underground plumbing will take four days, pouring the cement floor three days, and the carpenters will have a roof on it in two weeks. When that building goes up, it will go up in a hurry."
Serie said his crews would first work on the Gooseneck Implement building, situated on the western portion of the lot, and start the KCDC building about two weeks later.
He has planned two weeks for installation of the underground sprinkler, water and sewer lines, a week for insulation, three weeks of drywall work, and two weeks for carpet and finish work in each unit.
"They're going to be done by Christmas," he said with a grin, then added he wanted at least one building ready to rent in time for the new teachers coming into the school district.
Each 12-plex will feature two one-bedroom apartments, six two-bedroom apartments, and four three-bedroom apartments, ranging from 800 to 1400 square feet of living space.
Rents for the apartments will vary, Serie explained, to meet the affordable housing requirements of the state's HIF program. Rent for three of the apartments in each building will be determined in accordance with income and rent limits at 50 percent of area median income, while rent for three apartments will be established considering income and rent limits at 140 percent of annual median income.
"The median income is about $22,000 per year," Serie said, "so those apartments rent for about $600 a month. The renter pays electricity and the owner pays water, sewer and garbage."
At 140 percent of area median income, or about $65,000 for an individual, Serie estimated rents could go as high as $1500. "But I'm guessing those rents will be around $600 for a one-bedroom, $900 for a two-bedroom, and $1200 for a three-bedroom," he said.
Single-stall, detached garages will be available separately, for an additional monthly fee.
Huge project for
Kenmare's housing needs
Kenmare mayor Roger Ness told Serie the city wanted the units done as soon as possible. The city received bids last week to install water and sewer lines to the site, and the city council discussed those projects during their meeting Monday night.
"We also need power here," Serie said, adding MDU would be providing that service.
Ness would like the entire site prepared for future housing projects, not just the lots for the two 12-plexes. "We will curb and gutter Division Street and 7th Avenue for these lots," he said. "We're doing sections as we go. And we want to do the dirt work and other infrastructure for the rest of site, and get it all tied together so we can get it developed."
Kevin Borud, owner of Gooseneck Implement, was pleased to see construction starting on the units in Kenmare. He predicted at least half the apartments in the Gooseneck 12-plex would be filled with employees. The company has already purchased a house in Williston for staff members and is sponsoring a duplex construction project in Stanley for employees there.
"This is about the needs for our help," he said, adding that two employees would be returning to the Kenmare area soon after completion of a training program in Wahpeton. "I don't think we'd have our employees if we didn't do something about housing."
"This is one huge project for our town," Ness said. "These 12-plexes are going to help everyone."
Actual rental rates have not yet been determined for the new 12-plexes. However, persons interested in renting one of those apartments should contact Kenmare city auditor Barb Wiedmer at 701-385-4232 for more information.