Fitness instructors organize fundraiser for movie theater
Posted 5/02/12 (Wed)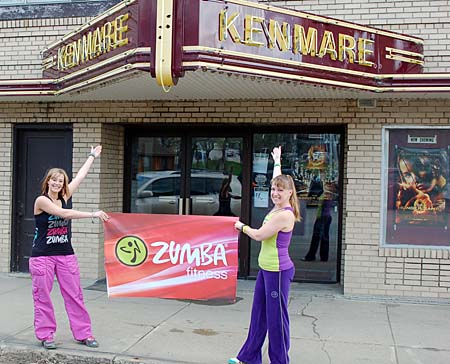 Zumba dance party for the Kenmare Theatre . . . Local Zumba
instructors Amy Harris, left, and Chris Christensen invite everyone
to a fund-raiser scheduled for Sunday, May 6th, from 1 to 3 pm at
Kenmare High School to benefit the Kenmare Theatre. The event
features two hours of Zumba fitness workouts (with breaks),
raffle, silent acution, bake sale, Silpada jewelry sale and more!
By Caroline Downs
Local Zumba fitness instructors Chris Christensen and Amy Harris lead their high-energy classes four days a week.
When they do slow down to relax, they enjoy a movie at the Kenmare Theatre, so when the theatre board announced the need to purchase a digital projector in order to show new releases and keep the doors open, Christensen and Harris wanted to help.
"We've had so much support from the Kenmare, Lignite and Berthold communities that we wanted to give back, and we wanted to help support this community project," Harris said. "Besides, I don't want to drive to Minot to go to the theatre, or to take my kids to movies there!"
"We wanted to do something that would benefit the community," Christensen added.
That "something" has developed into a two-hour Zumba fund-raiser planned for Sunday, May 6th, from 1 to 3 pm at Kenmare High School. Harris and Christensen have lined up seven different Zumba instructors for two fun-filled hours of dance and aerobic exercise performed to high-energy Latin and international music.
"This will be two hours with breaks, though," Christensen said with a smile. "We have a lot of other things going on up there, too."
In fact, the Zumba fund-raiser includes a raffle, silent auction, bake sale and Silpada Jewelry sale, with proceeds from all those activities benefitting the Kenmare Theatre project. Food and beverages will be available.
Persons of all ages are welcome, whether to try out the Zumba routines for themselves or simply to shop and socialize with their friends. Of course, direct donations to the theatre project will be cheerfully accepted that day.
"We're trying to put in as much as possible during those two hours," said Christensen. She and Harris set a goal to raise $5,000 for the theatre through the event.
Raffle tickets are already on sale at several locations around Kenmare. "The local businesses have been very supportive of this event with generous donations," Christensen said. "We appreciate the way they're helping to make this a success."
Zumba for fun, fitness
and fund-raising
The Zumba fund-raiser scheduled for May 6th is the first major local activity designated to benefit the theatre project. Harris and Christensen have been planning the event for more than two months, but they've been involved with Zumba in Kenmare for over two years.
Harris earned her certification as an instructor last summer and Christensen followed in October. The two women are prepared to lead classes in Zumba Basic 1 and 2, Zumba Toning, Zumbatomic for kids, Zumba Gold, and Aqua Zumba.
"We had so much passion and love for Zumba, we looked at options for getting licensed," Harris said as she described her transformation from Zumba student to instructor.
The two women currently offer sessions on Mondays and Wednesdays in Lignite at 5:30 pm and Kenmare at 7:30 pm, on Saturdays in Kenmare at 9 am, and on Sundays in Berthold at 6:30 pm, with about 50 to 60 participants each week.
Participants pay a fee for the regular Zumba classes, but the fund-raiser on Sunday afternoon will allow individuals to test their interest in Zumba. "This is a great event for anybody who's never tried Zumba and who wants to," Christensen said. "They can get a feel for what it's like with different instructors."
"We want people to come and check out everything else at the fund-raiser, too," Harris added. "If they don't want to dance, they can just watch. It's all about the music and having fun!"
Persons who plan to take part in the event should wear comfortable clothing and arrive prepared with water, a towel, and cross trainers or dance sneakers.
Anyone with further questions about the Zumba fund-raiser for the Kenmare Theatre should contact Harris at 701-217-0065 or Christensen at 701-848-6421.
$38,000 raised or pledged to
Kenmare Theatre so far
As of Monday, the Kenmare Theatre had raised $13,000 in contributions from individuals and businesses toward the $100,000 cost of a new state-of-the-art digital projector and screen to replace the current 35 mm film projector.
A $25,000 donation has also been committed by the Kenmare Veteran's Club, Inc.
According to the National Association of Theatre Owners, movie studios plan to eliminate the use of 35mm film prints by 2013 or early 2014 because of the high expense in producing the prints. Each 35mm print lasts about four months, with more costs incurred to destroy and dispose of the film.
Producing digital copies of movies will save money for the industry, but audiences at the Kenmare Theatre will appreciate the brighter, clearer, sharper images from digital movies, with no scratches and no problems with focusing or framing. The new projector will also provide the optimum 3D experience for local audiences, as more science fiction, action and animated movies are now created in 3D format.
The Kenmare Theatre board decided in February to raise the funds needed to purchase the new digital projector and screen, and to ask the public for help.
Tax deductible contributions can be made to the Kenmare Community Development Corporation by contacting KCDC executive director Barb Wiedmer at the city auditor's office (701-385-4232) or sending a check to the KCDC #2 at P.O. Box 816, Kenmare, ND 58746.