Hunter bags moose near Kenmare on his 85th birthday
Posted 10/07/09 (Wed)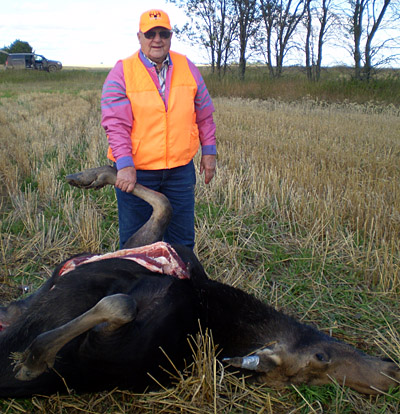 Luck of the draw . . . Melvin Hagen of Williston drew a cow moose tag
in the North Dakota Game and Fish Department's once-in-a-lifetime
hunting lottery. He also drew a cow elk tag. Hagen downed his moose
east of Kenmare on Friday.
By Terry Froseth
It was a once-in-a-lifetime day for a Williston man on Friday.
Actually, it was a couple once-in-a-lifetime experiences on the same day.
Melvin Hagen filled his North Dakota moose tag near Kenmare. It was also his 85th birthday.
Hagen brought down a cow moose a mile south and four miles east of Kenmare. He had help in flushing the moose from his son, Craig Hagen, Melvin's nephew, John Glenn, and area farmer Martin Irgens.
The day started out dreary with rain showers, but cleared up so the group could get around with some difficulty on the gravel roads.
Hagen said they saw three bull moose during the hunt, but just the one cow.
Hagen had a cow tag, so they kept stalking the cow which was traversing across the mushy fields with a calf and bull all afternoon, he said.
"It wasn't very easy," Hagen said. "They'd go across a field and you'd have to go a long ways to get around on the roads."
"We walked a couple miles to flush it out," Hagen said.
Hagen finally got in position for a shot with his 30-06 rife while the trio of moose were coming down a tree row.
"I think it would have went down on the first shot, but I shot it again in the neck. I made sure it wasn't going anywhere," Hagen said.
It took about an hour before the group was able to get near the cow to field dress it. "There was a bull with this one and he give us a lot of trouble. He wouldn't leave," Hagen said.
Hagen said the bull finally ran off when they got a pickup to the site.
Arlen Gartner quartered the moose, with Hagen planning to take it to a Williston processing plant. "I help out there," Hagen said. Gartner estimated the cow's live weight at about 800 pounds. So far, Gartner's Jack & Jill has taken in 11 moose for processing.
With a moose in the bag, Hagen has more big game hunting ahead. He's turning his sights to elk.
Hagen was lucky enough to also draw a once-in-a-lifetime North Dakota elk tag.
"I got that to get yet," Hagen declared.
Standing near the moose and reflecting on the hunt, Hagen's son Craig asked, "Is this the best birthday present you've ever had?"
"Yeah, it is," Hagen acknowledged.